Fresno City College's "Spring 2" Sports Allowed to Compete in Upcoming Season
Fresno City College officials announced that out of the 10 sports in the "Spring 2" category, nine will potentially be allowed to compete in the upcoming season. 
The sports that got approved include softball, baseball, women's beach volleyball, women's swim and dive, men and women's tennis, and men and women's track and field.
The nine sports are allowed to have a season because Fresno County has been moving into less restrictive tiers and COVID-19 cases have been decreasing, according to FCC's announcement. 
The only sport not allowed to opt-in was badminton because it takes place indoors where the risk level is higher. 
In preparation for the season, student-athletes have already been practicing and are required to take safety precautions, which include mandatory COVID-19 testing and social distancing.   
Track and Field Coach Jesus Reyes said he wasn't worried about the track and field season being canceled because it is easy to follow COVID-19 guidelines in this sport. 
For example, Reyes said teams can just move two lanes over on the track in order to put a greater distance between students. 
For him, it is important to obey the protocols and do things the right way. 
Reyes also admits he was excited yet nervous about the team potentially participating in the upcoming season.  
"If you're not nervous, you're not alive. I'm also excited because our teams have done good jobs because of listening and doing what we taught them over the break," he said. "I'm eager to see because these young people have matured and done the things they needed to do to stay in shape.  Even to the point to where some are close to signing scholarships from not competing in a year."
Despite the year-long break, Reyes said his athletes have still been acknowledged by universities through social media and some are even close to signing scholarships. 
 By posting on Instagram or other platforms, athletes can qualify for scholarships which Reyes believes is different but good because it presents them more opportunities.
Head Coach of the Women's Swim and Dive team, Gianna Rossi, was also excited to be granted a season for this year.  
"I think that our student-athletes really needed an opportunity to participate especially because of COVID people are dealing with mental health issues," she said. "Competing is a huge outlet. My student-athletes are beyond excited to do what they love as well. I guess we're going back to our new normal."
The team has been practicing since the spring semester of 2021 began in January. 
When it comes to practices, nothing has changed drastically except the team only gets to practice three times a week.  
In addition, there are more safety tests and social distancing but there is enough space in the pool for the team to do that and it feels normal now, according to Rossi. 
Despite it being a team sport, Rossi believes swim and dive are low-risk because many races are done individually.
However, some competitions had to be changed. 
 Since many coaches in the conference were concerned about the athlete's endurance from not working out as much, harder long-distance races have been accommodated.
Despite the changes they have had to make, Rossi and the team still hope to rank top three in the Central Valley Conference. 
Track and field sprinter, Kyle Friese, is also ecstatic to have a season because he has been doing a lot of work in the offseason while not knowing if he would be competing.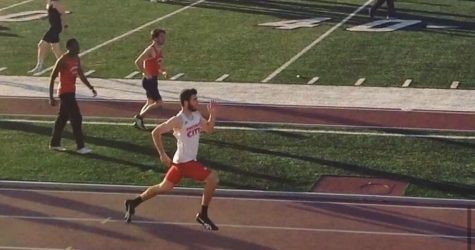 Friese has been independently practicing the whole year.
He had to do a lot of workouts by himself with nobody to hold him accountable. 
"I'm really excited to be back, I was really disappointed by the way last year ended," he said.  "I'm really confident that we're going to have a good season as well.  It's a great opportunity after last season."
Friese has some goals for this season including setting a personal record in the 200-meter race.  
However, his main goal is setting a record in the 400-meter race that will make him eligible for a scholarship.
If allowed to resume, the season would begin around April 15 and conclude June 23 but no spectators will be allowed.