Rams Search for Their Ninth Consecutive League Championship
More stories from Michael Mendez
It's that time of year again as it's the beginning of the fall semester, meaning the lineup of fall sports are back in full swing. Out of all the sports that will be featured this semester, none has been looked at with more anticipation than the Fresno City College Women's Volleyball team.
The Women's Volleyball team have a lot to live up to this season as they finished the 2014 season with a 21-6 overall record and went 14-0 in the CVC (Central Valley Conference). This added to the Lady Rams winning their eighth straight conference championship and getting as far as the second round of the Northern California Regional playoffs. The Lady Rams are set to start their 2015 campaign in the Delta Classic on Sept. 11-12.
Leading the charge for the Rams is none other than head coach Tracy Ainger-Schulte. Ainger-Schulte has been the coach since 2009, and since then she has completely turned this program around winning eight conference titles in her first eight years. Under Ainger-Schulte the team has racked up over 300 wins making the team a force to be reckoned with.
When it comes to the team the season, Ainger-Schulte feels that this team is talented enough to do some great things. There are four veteran players returning from the previous season. She hopes that the new players will break out in their own right.
"They are all very talented, what I need to see is their mental toughness and coming together as a team," Ainger-Schulte said.
Ainger-Schulte feels that the team chemistry is still in its early phases and there is still time to develop.
Returning sophomore Malerie Crenshaw gave insight of where she feels her team is at.
"We have a lot of potential but we haven't peaked yet," Crenshaw said.
The first year players are quickly getting in the swing of how things are supposed to go and what coaches and teammates expect out of them.
First year player Sydney Molander referred to how preseason scrimmages and tournaments helped her settle into the team's system and how she feels the team will do into the season going forward.
"I think we will do great. It's still preseason but I think it will be great," Molander said.
Both the coaches and players have personal goals that they want to reach this season individually and as a unit, but there's one goal that they have in common: winning the Central Valley Conference for the ninth consecutive time.
"It would be awesome, but as long as we are doing all we can that's all that matters," sophomore Nicole Linman said.
"It would be a dream come true," Molander said.
"It would mean a lot, and keeping the streak alive for our coach," Crenshaw said.
"Nine straight always sounds good to me," Ainger-Schulte said.
About the Contributors
Michael Mendez, Reporter
The Fresno City College women's tennis team traveled to their university neighbors playing an exhibition match against nationally ranked Fresno State....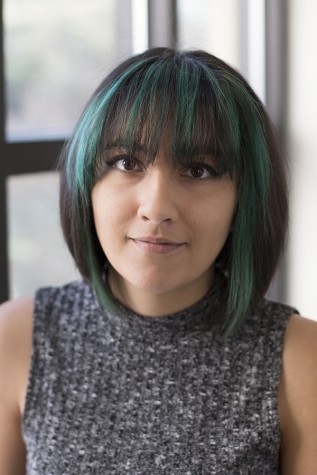 Daisy Rodriguez, Photo Editor
Born in Salinas, California, Daisy Rodriguez is majoring in journalism and will proceed to major in visual communications. She is a photographer of both...