Know Your Props: A Guide to the Propositions on This Year's California Ballot and Why You Should Vote for Them.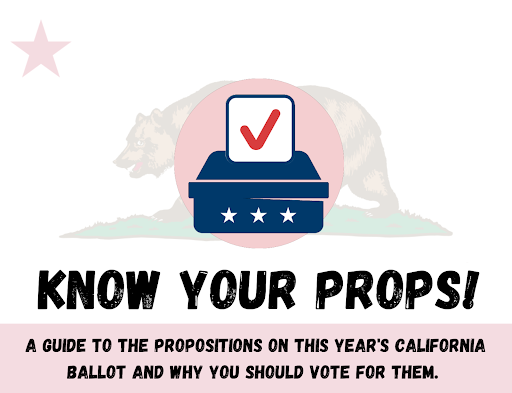 Prop 1
By Sara Ohler
Proposition 1, which would be the state constitutional right to reproductive freedom, is on the ballot this year.
This includes the fundamental right to choose to have an abortion and the right to choose or refuse contraceptives.
Voting yes on Proposition 1 means that the California Constitution will include reproductive freedom to existing rights.
If rejected by voters, the California Constitution will not add reproductive freedom to our existing rights, it would continue to exist under other state laws. 
This means our bodily autonomy will not be completely protected as future lawmakers can simply change their minds.
Restricting reproductive rights does not affect all people with a uterus the same. The NAACP's Legal Defense Fund explains how overturning reproductive rights would disproportionately harm people of color and those who are low-income who are most impacted by systemic inequalities. 
A recent study explains banning abortion in the U.S. significantly increases the number of pregnancy-related deaths, and a 33% increase among Black people because staying pregnant is more dangerous than having an abortion.
Those who oppose Proposition 1, such as the Catholic Church and the California Republican Party, argue that it would allow late-term procedures for any reason as a scare tactic.
Proposition 1 does not change how or when a person can access an abortion in California.
Those who oppose it also argue that it will have a significant fiscal impact.
A quick Google search would show you that the Legislative Analyst's Office disagrees, arguing that reproductive rights already are protected by state law. Another scare tactic, shocker.
It is not surprising that the Catholic Church and the California Republican Party would want to limit abortion access as much as they can. 
They are both very strongly and openly pro-life, which just means they have the weird need to control what people with uteruses do to their bodies.
Access to abortions and contraceptives is a fundamental part of health care. Banning abortions isn't protecting babies, it's harming them and the people who carry them, and some of those who are carrying babies are children themselves.
You wouldn't allow a pre-teen or teenager to adopt a child, so why should you force them to go through the trauma of carrying a child and giving birth, and then make them go through putting them up for adoption or taking care of them?
Pro-lifers don't care about life, they care about a clump of cells and controlling a person's bodily autonomy. Once the baby is born, they do not care about the baby or the parent. They are on their own, if the parent even survives.
It is my right and any other person with a uterus right to choose what happens to our own body. We cannot go any more backwards than we already have concerning our right to choose.
This is a war on choice. Vote yes on Proposition 1 if you really do care about life.
Prop 26 
By Elijah Wingfield 
Proposition 26 is a constitutional amendment that would legalize sports betting at American Indian gaming casinos and licensed racetracks in California.
According to Ballotpedia, the amendment would authorize new types of gambling, allow federally recognized Native American tribes to offer roulette, sports gambling on tribal lands, and dice games.
Proposition 26 would also allow on site sports wagering at privately operated horse-racing tracks in four specified counties for people 21 years of age and older.
This proposition is also supported by the Peace and Freedom Party Of California, numerous unions like the California Nations Indian Gaming Association, Deputy Sheriff's Association of San Diego County, and the San Diego Police Officers Association. A growing number of California Indian tribes are supporters as well.
Supporters of the proposition believe that Proposition 26 would bring popular in-person sports wagering at tribal casinos, bolster tribal self-sufficiency, create jobs and economic opportunities for Californians, and generate tens of millions in revenue to support state priorities like public schools, mental health programs, public safety, wildfire prevention, affordable housing, and senior services.
While there are numerous supporters of voting Yes on Proposition 26, it has its detractors as well.
Taxpayers Against Special Interest Monopolies, the Republican Party of California, the California Animal Welfare Association, California Contract Cities Association, AFSCME Council 36, as well as numerous corporations.
Opponents to Proposition 26 believe that it is a push by wealthy casinos to guarantee monopoly on all gaming in California through providing private lawyers the power of the Attorney General to bury competitors with lawsuits.
According to the Taxpayers Against Special Interest Monopolies, the proposition has too much special interest money from billion dollar slot machine companies, would hurt small businesses from lawsuit abuse, disproportionately hurt communities of color, exploit taxpayer money, and fail to protect workers. 
The Mercury News and East Bay Times editorial board believe that "It's all about greed. California's tribes have split their support between the two measures depending on which one they expect would provide the biggest payoff. Horserace tracks are similarly trying to fatten their profits while cardrooms are trying to protect theirs."
Although those in support view the measure as an authorization of sports betting and promotion of self-reliance among Indian tribes, those in opposition see the amendment as an unnecessary boost in power for casino monopolies which will only result in more widespread underage gambling as well as damage among workers and people of color alike.
As a person of color, it saddens me to see that California considers an amendment that does more harm than good and would only serve those with power leaving those without power in the dust.
The last thing any Californian needs is another way for the rich to get richer. 
Join me in voting no on Proposition 26 to protect workers and people of color.
Prop 27 
By Jayronan Vanthy &  Ricardo A. Reyna 
Proposition 27 is all about sports betting and tribal gambling. 
California law currently prohibits sports gambling in the state. However, some gambling is still allowed, such as the state lottery, tribal gambling, cardrooms, and horse race betting.  
Proposition 27 will require Native American tribes and gambling companies that offer sports gambling throughout California to make payments to the state to cover finances such as state regulatory costs and addressing homelessness issues. 
This means that a tax will be implemented to the gambler when placing an online bet. 
85% of the revenue from those taxes will go towards homelessness and mental health endeavors while the remaining 15% going to Native American tribes who do not own any gambling businesses. 
The proposition will also allow licensed tribes to offer online sports betting off tribal lands to anyone 21 and over. 
Major betting companies such as FanDuel and DraftKings  (the out-of-state gambling companies pushing for Proposition 27) would need a tribe's consent to operate.
DraftsKings and FanDuel are in the same market that Native American owned Casinos are in, which makes them direct competitors. 
The measure will also create increasingly larger  thresholds for gaming companies to do business in California. 
Meaning, if the measure passes, companies would have to pay a $100 million licensing fee to do business in the state; as well as having to already be licensed in 10 other states or be operating in five states while running 12 casinos. 
This leaves some people worried as to whether or not it will be harder for smaller gambling companies and start-ups to operate within California. 
Out of the four gambling propositions that competed to make this year's ballot, Proposition 27 was paid for by major online sports betting companies. 
Proposition 27 mainly helps large gambling corporations such as DraftKings and FanDuel in their profits by expanding their market to California under the guise of civic sympathy. 
Some who are against Proposition 27 argue that it will turn every cell phone and computer into a potential gambling device. They also say it would raise the risk of underage and problem gambling.
Others who are in favor of Proposition 27 say that it would protect against underage and problem gambling by fining violators as well as prohibiting gambling on youth sporting events. 
Prop 28
By James Pewthers
Proposition 28 aims to set  a minimum of 1% of the state budget go towards arts and music education in K-12 schools.
If passed, the funding will be provided by the state's General Fund, and the ballot initiative itself mentions that taxes will not be raised due to this proposition.
The "Yes on 28" committee received millions in campaign funding from the California Teachers Association, Fender Musical Instruments Corp., and other singular donors.
It is also supported by the Los Angeles Unified School District and the editorial boards of the Los Angeles Times, Bay Area Reporter, San Francisco Chronicle, Orange County Register, Sacramento Bee, and Fresno Bee.
The Sacramento Bee Editorial Board argues that arts and music education is usually the first to go when school districts have to make budget cuts, which is why the proposition deserves support.
The proposition is opposed by Reform California, a PAC that is generally against any new funding proposed to California voters, and lobbies for legislation against new taxes. The editorial boards that oppose it are the San Diego Union-Tribune, Santa Cruz Sentinel, The Mercury News and East Bay Times.
The San Diego Union-Tribune's Editorial Board echoed Reform California's sentiments, suggesting voters should be turning to school board candidates and lawmakers that will push for using existing funding for arts and music education.
https://ballotpedia.org/California_Proposition_28,_Art_and_Music_K-12_Education_Funding_Initiative_(2022)
Prop 29
By Krystle Nozartash 
Proposition 29 is a dialysis proposition that if passed could potentially threaten the lives of people like me who battle chronic kidney disease. 
Proposition 29 states that kidney dialysis clinics will require on-site licensed medical professionals at clinics. Additionally, it would require clinics to disclose all physicians that have clinic ownership interests of 5% or more to their patients, and for clinics to report infection data to the state.
Californians have overwhelmingly voted against similar dialysis propositions twice, yet it appears on the ballot for a third time.
Dialysis treatments mimic kidneys and flush the toxins from the bloodstream that normal functioning kidneys can't. 
Dialysis propositions first appeared on the 2018 ballot as Proposition 8 with 59.9% of voters in opposition and 40% in support. In 2020 it went before voters again as Proposition 23. Once again it failed to pass, with 10.5 million no votes and 6.1 million yes votes. 
That's more than 63% of voters in opposition of this proposition, yet people are having to vote again on this. What makes it so different this time around? Not much.
This measure would prohibit clinics from refusing to treat patients based on the source of payment. However, it could increase the cost of treatment.
As a two-time kidney transplant recipient, prior dialysis patient, and someone who lost a sibling to renal failure, I believe lives are at stake for those on the transplant lists or needing dialysis.
"Yes to Prop 29" would play a role in the primary physician shortage California faces today.
Let's Get Healthy California states that California faces a statewide shortfall for primary care providers. By 2025, the state would need nearly 4,700 primary care clinicians and an additional 4,100 in 2030 to meet demand.
Dialysis patients, American Nurses Association\California, California Medical Association and patient advocates argue that this is a dangerous dialysis proposition.
If it passes, multiple dialysis clinics could be shut down if there aren't enough qualified physicians, nurse practitioners, or physician assistants available to staff clinics during patient treatment hours.
Calmatters reports there are only 650 operating dialysis clinics statewide and 80,000 Californians who receive dialysis, a life-saving treatment.
According to Donate a Life California there are currently over 23,000 Californians on the transplant waiting lists. Of these individuals, 90% are waiting for a kidney transplant.
My younger brother relied on hemodialysis for almost nine years, until he received his kidney transplant in November 2020. The treatments saved his life. 
Imagine what these people who are waiting for transplants and needing dialysis would go through, if there weren't enough clinics to service their health needs.
The more toxins that build up in the body the more poisoned they get. Without the treatment to remove the waste, the fluid builds up in the body.
Unless you know the feeling of being so swollen from fluid, drowning in your own waste and unable to breathe, you couldn't fully understand the importance of the clinics. I understand it all too much. 
The fiscal effects of Proposition 29 would overall increase costs for clinics by several hundred thousand dollars each year because of the requirement that each clinic has a qualified medical professional on-site during all treatment hours.
Other requirements of the proposition would not significantly increase clinic costs. 
The additional cost could cause some clinics to operate at a loss, or at a greater loss than previously. 
Owners and operators might respond to Proposition 29 by negotiating increased rates with payers to cover some of the costs. 
Specifically, they may be able to negotiate higher rates with private commercial insurance companies and, to a lesser extent, with Medi-Cal managed care plans. Owners could continue current operations, with lower profits.
For some owners and operators, the higher costs would reduce their profits, but they still could operate at current levels without closing clinics. 
Given the higher costs a clinic would face, some owners and operators may decide to seek consent from California Department Public Health to close some of their clinics that are operating at a loss. 
Proposition 29 could increase health care costs for state and local governments including Medi-Cal costs. 
Voting no on this measure means chronic dialysis clinics would not be required to have a physician, nurse practitioner, or physician assistant on-site during all patient treatment hours.
Although Proposition 29 will ensure dialysis patients deserve protection under the law and safe treatments under the guidance of a licensed medical professional, many patients, patient advocates and others are still opposed to it.
As a voter and someone in the renal failure stage, I stand with the dialysis patients, patient advocates, and clinics against the proposition. Voting no on Proposition 29, could save the lives of many or someone you care about.
Prop 30
By Alexis Martinelli
Are you tired of wildfires devastating California? What about not breathing fresh clean air? Or maybe you're fed up with the gas prices like everyone else. Well, there is one way to fix all of these issues, voting for Proposition 30. 
Voting on Proposition 30 will be one the most important decisions Californians make as it is the only climate initiative on the ballot this November.
You may be wondering why your vote matters and how voting for Proposition 30 will benefit our forests and air quality.
According to California's Official Voter Information Guide, this proposition will impose a 1.75% tax increase on incomes over $2 million. Tax income will also be funded to wildfire prevention, electric vehicle purchase incentives and vehicle charging stations.
According to the Legislative Analysis Office, the revenue from the new tax will go to numerous state agencies to manage the programs including, Zero-Emission Vehicle Programs and Wildfire Response and Prevention Programs.  
Forty-five percent of the money will go to payments to help buy new vehicles, 35% will go to the charging stations for the vehicles and 20% will go to wildfire response and prevention. 
Voting yes on Proposition 30 will take us a step further to combating climate change. 
I want to be able to breathe and not feel the burning sensation in my lungs. I don't want to have to wipe my eyes because they are itchy from the debris in the air. I want to help eliminate some of my carbon footprint by plugging in my car instead of creating more gas emissions every time I have to make a run to the grocery store.
Voting for Proposition 30 will improve the well-being of our health and our air quality. 
Join me and do your part by voting yes on Proposition 30.
Prop 31 
By Ricardo A. Reyna 
Proposition 31 is a proposition on this year's voting ballot that will stop big tobacco companies from potentially targeting children with candy-flavored tobacco products.  
In California alone, 96% of high school e-cigarette users choose flavored tobacco products according to the Surgeon General's Advisory on the epidemic of E-cigarette usage among youth. 
The same study also shows that over 2 million middle and high school students actively use e-cigarettes and flavored tobacco products.
E-cigarettes entered the U.S market in 2007 and by 2014 had become the most commonly used tobacco product among youth.
Between the years 2011 and 2015, e-cigarette usage among minors grew 900%.
In 2018 alone, the same study shows over 3.6 million U.S youth admitted to using e-cigarettes while 1 in 5 youth were high school students, 1 in 20 were middle schoolers. 
Many e-cigarette and flavored tobacco products come in flavors that are appealing to children, such as Sour Apple, Blue Raspberry and Tropical Punch. 
While the sale of tobacco products is something that can't be avoided. Minimizing the harm that tobacco products do to children is something everyone should work towards. 
Voting yes on Proposition 31 will ensure the sale of flavored tobacco products targeted towards children will no longer be as big of an issue.