To be a Gallery Assistant Extraordinaire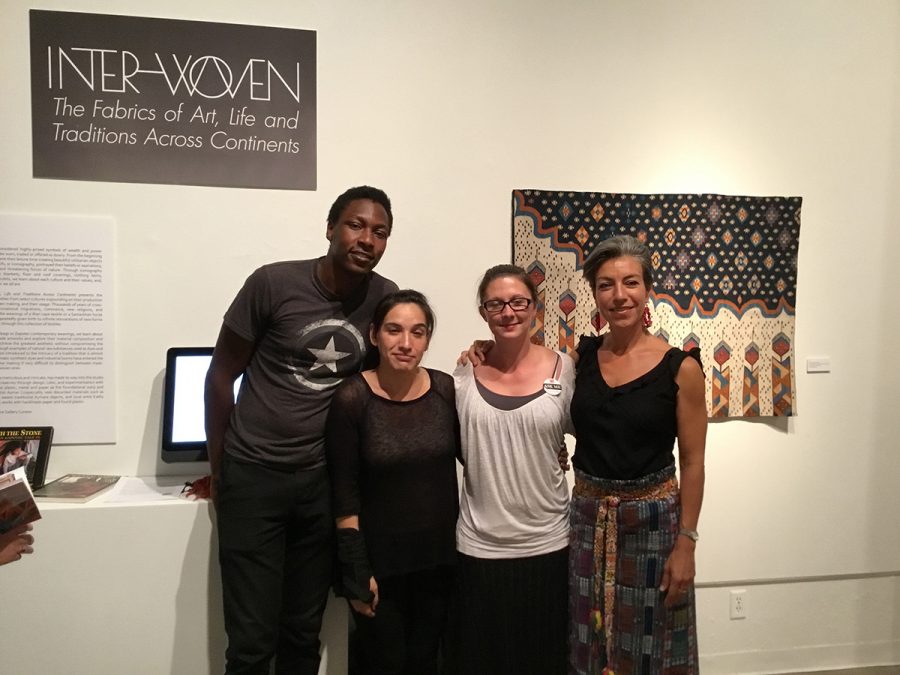 Story By: Teresa Diaz, Art Space Gallery Curator
August 21, 2016
If you have passed by the main campus fountain and have bumped into a sign neighboring the snack stand that says "OPEN, ART SPACE GALLERY" you are warm!
Just follow the arrow into the main entrance to the Art Department building and you will find the Gallery's entrance on your left. An awkward entrance, I know, but as you walk in, your eyes will widen with visual stimulus and your heart will slow down to accelerate your concentration.
A bright gallery assistant greets you with a smile and warmly welcomes you in, asks you to sign in or leave your heavy loads near the front desk to peruse the gallery freely.
If it's Anita, she will begin by engaging you in questions about your major, what drove you to come in, and to share with you her first-time experience seeing the show. She is not an art major, but she grew up in Mexico, where she says she saw art everywhere she went.
She remembers her town's colorful traditions in music, holiday street decorations, and distinctive clothing. She confesses she does not know anything about art, but has an affinity towards some works of art that she does not entirely understand why. She just 'loves' some pieces and is excited to share them with you.
Anita likes to walk you through the gallery, if you are up for it, and talk about those pieces. Something in them 'moves' her. She 'sees' in them things that she can relate to, but can't explain what exactly. She also welcomes your thoughts and opinions, and if you come up with some exceptional reasoning, she will pick your brain for hours.
If you come early, you will be greeted by Martin. A tall, handsome man, with a bright smile.
He will wait for you to walk through the gallery and at the end, he will ask you a question or two and immediately engage you into an interesting conversation, that will end with laughs.
He knows plenty about art; how it was made, or who made it and why. If he doesn't, he will speculate, but intelligently. He will keep your mind thinking through funny anecdotes. There is no conversation that is too long for Martin. His enthusiasm about knowledge is contagious.
Now, if you are greeted by Crystal, you know that she can answer any question, even if she doesn't know it, she will find out.
She is more of a manager and loves to keep everything running correctly and on time. She has a mission, and that is to be helpful and efficient. Her many talents and skills come from a history of helping her brother, a general contractor, and her many successful job skills in retail and office work. She can go up a 12-foot ladder with no problem, use hand and electric tools ingeniously, carry more than 50 pounds, sew delicately and be proficient at any Microsoft Office program.
Like I said, if she doesn't know something, she will figure it out correctly. Crystal is a go-getter in her multi-canine household –three Nikita-Husky dogs and a husband (not a canine!) And, she manages her home as she does her work like she does her career, and has fun doing it.
So, I wonder "why was I so lucky to find this awesome help?" I am blessed that these dedicated students applied for the job and passed a demanding interview. To be a great gallery assistant, I don't require an art background, but to be curious in the arts, and respectful of people's creativity. The other requirement is to figure out how to solve problems, multi-task, take pride in your work, be punctual and reliable. Not be afraid of trying anything new, and be creative when dealing with situations that make you uncomfortable.
As in all jobs, if you try hard, are open to suggestions, have good communication with your manager and present yourself proudly, you will do well. The same requirements are asked by your teachers. This is all part of a student's education: know how to apply what you learn in school on the job.
Not only will this lead you to a prolonged employment, but your present teacher or manager will be happy to write you glowing letter of recommendation for a future job, career and higher education.
Come meet our wonderful team and experience all this on your own. Oh, and come see our exhibition; you won't regret it!
Check our our Facebook page for more photos, news and info #artspacegalleryfcc.