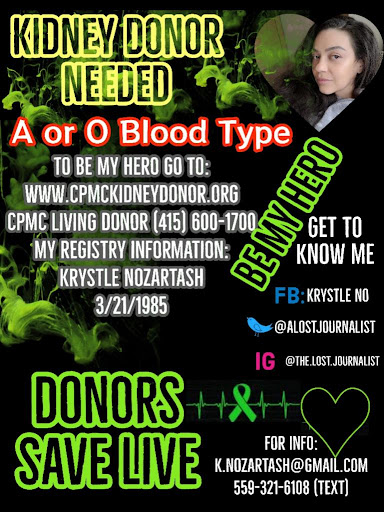 Former Rampage Editor-In-Chief Krystle Nozartash urgently needs a living kidney transplant.
Nozartash was 13 when she was diagnosed with kidney failure and since then has gone through two cadaver donor transplants, which are deceased donors. One kidney that she received lasted for two years and the second kidney she received lasted 17 years, until recently. 
"My life motto I live by is 'sharing is caring.' I give when I don't have to give. If someone is outside a store looking like they could use a little kindness I bring something out for them. It is not only about food, some people just need a simple hello or some act of kindness," Nozartash said.
When Nozartash reached her twenties she was also diagnosed with Charcot-Marie-Tooth, a disease that affects the peripheral nerves and signals the nerves from the brain and spinal cord to the rest of the body. 
She knew there was no avoiding or taking these illnesses away and initially blamed and questioned herself. 
"In the beginning it was tough and I'd ask myself what I did wrong to cause this. In reality, nothing could prevent this," Nozartash said. 
Although the news was uncompromising, this was nothing new as Nozartash's family has dealt with the same health issues. Nozartash and her brother inherited CMT from both parents with their father also having kidney disease. Her brother ultimately lost his life at age 17 due to having a stroke that caused seizures.
Nozartash has spent most of her life with this disease, but she doesn't let it define what she does with her life. She still makes the most out of every situation she possibly can. In 2005, she got a transplant and was finally able to walk around without a machine attached to her. 
One way Nozartash was able to cope with her diagnosis was by using resources like support groups. She participated in social media groups like Chronic Kidney Disease (CKD) and End Stage Renal Disease (ESRD). 
She also has her husband, Jose Garcia, who she says is her biggest supporter. Garcia has gotten himself tested, but he is not a match for a transplant. 
"We expected her kidney to go out eventually. I try to make this transition as easy as possible for her. It's been a challenge for both of us, but more for her," Garcia said.
Although she faces challenges in everyday life, she has always tried to keep up with an enjoyable life. While she attended Fresno City College, she maintained a 3.0 GPA, on top of being in and out of the hospital with dialysis, a treatment that helps remove extra fluids and water in your body where the kidneys are not able to. She graduated with an Associate of Arts in Journalism degree in May 2023.
Nozartash spends three days a week in the hospital doing dialysis which takes up the majority of her time. Her dialysis has caused muscular dystrophy, which causes your muscles to weaken over time. Her biggest struggle with that is not being able to even step up onto a curb, as the pain is unbearable.
She has started to cook more at home, from scratch, so that way she can manage portions and avoid eating too much sodium or phosphorus. 
If she has more sodium and phosphorus than what her body allows, she starts to swell up and feel tight and then her skin starts to itch.  She said it feels like bugs are crawling on her.
"I can have up to 1500 mg of salt a day. I also have to watch my fluid intake which has to be under 42 oz. I spend a lot of time home now to prevent myself from getting sick because of my immune system," Nozartash said.
When Nozartash receives her new transplant, her goal is to go to Fisherman's Wharf in San Francisco and eat clam chowder and drink Dr. Pepper, foods she was forced to give up because of its ingredients.
When asked if she would redo life without her medical issues, Nozartash said no, because she's not sure what type of person she would be without any of it, since it's the only life she's known.
People interested in seeing if they are a match should get a blood test to learn their blood type. Nozartash is in need of a donor with an A+ or O- blood type. https://www.cpmckidneydonor.org
Story continues below advertisement