High School Journalism Day Returns to Fresno City College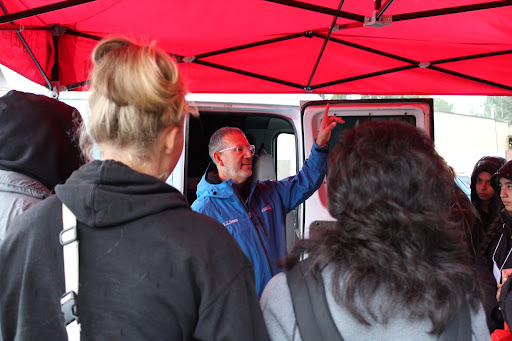 On Friday Feb. 24, 2023, Fresno City College hosted its fourth high school journalism day after a three-year hiatus. Hundreds of high school students from across the Central Valley came to FCC despite rainy weather to attend workshops led by working journalists to learn about career opportunities in journalism.   
KSEE 24 Sports Anchor Andrew Marden was among the presenters. He talked to students about his time at the Super Bowl and Olympics and how to tell a story and connect with the community in the two minutes he has on camera.
His advice for future journalists is to do as much as you can to make yourself better. 
"If you're not willing to go the extra mile there are thousands of people who are." Marden said.  
 In another workshop, FCC multimedia reporting professor Cheryl Gardner taught students how to put video sequences together and edit. She showed some videos created by her past students to give the high school students an idea of how to tell a story by video.  
Gardner wants students to know that this is an important part of journalism especially since everything is changing and moving online.
"You have to have visual content, everything's online and there's so many possibilities of how you can tell a story online." she said.  
Fresno Christian students Mason Petrie and Micah Friesen learned a lot during Gardner's workshop.
"It's been great, we've learned a lot about video sequencing, and it's been fun," Petrie said.  
"It's been pretty informative and a great reminder of simple but easy things to do to make it clever," Friesen said.   
Students also learned more about the impact that social media has on the brain during a presentation from Fresno State professor Jesse Scaccia. His job was to make sure students know the dangers it has but also how it can help you with a career in journalism.  
At the end of this event students learned that there are many forms of journalism whether it be news writing, social media, or broadcasting. 
The staff and presenters at FCC want to make sure students know how important it is to tell a good news story and everything the journalism program has to offer.
It is expected that this event will be held annually.
When first written this article had the names Mason Pietri and Mike Freziek and was corrected to Mason Petrie and Micah Friesen March 20, 2023