Psychological Services Are Here For You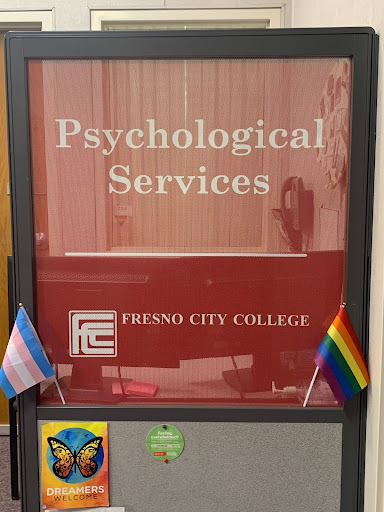 For students on campus who are under distress, Fresno City College offers walk-in crisis counseling and a variety of support groups.  
FCC has a total of six therapists, who focus on delivering culturally aligned treatment and intervention. 
Psychological services also provide group and couples counseling including the Rainbow Radar LGBTQIA+ support group, adulting with ADHD support group, dream circle interpretation and discussion group, mindfulness group, anxiety toolbox group, and a healthy relationships group. 
If in-person counseling isn't an option, there are online psychological services as well. 
"Having both options available is great for ensuring accessibility for students who may not be able to come into the clinic for sessions, or students who feel more comfortable doing online therapy," said Dr. Samuael Montano, FCC training director and clinical supervisor.
Dr. Montano has a special place in his heart for Fresno City College and the State Community Center District. During his doctoral training, he was placed with FCC in the clinic that he currently runs.  
"There is a beautiful and powerful energy here at Fresno City College and it comes as a direct result from its student body, so if myself and the team at psychological services can help students thrive, overcome obstacles, and contribute to that energy system, then I'm here for it," he said.
After earning his doctorate degree, Dr. Montano worked as a staff psychologist at UC Merced, but after he saw that FCC was hiring for the coordinator of psychological services he instantly applied. 
"My inspiration to become a psychologist was brought about by my life experiences and the desire to develop deep insights into the human condition in order to assist and help individuals through difficult experiences," Dr Montano said. 
The psychological center only offers services to the students. However, there are outreach events, presentations and training that are also open to staff and the public. 
The W. Gary Cannon Psychological Services Center is an organization that Fresno City College works closely with, and highly recommends for students who want counseling outside of FCC. The community resources can be found on their website.
"We work closely with many different organizations to provide the most encompassing referrals and services for our students who wish to seek services in the community," Dr. Montono said. 
Psychological Services is holding several mindfulness events throughout the year. Mindfulness is a type of meditation which focuses on being intensely aware of sensing and feeling in the moment, without interpretation and judgment. 
"Be on the lookout for flyers, emails, and check our social media for events," Montono said. 
Psychological Services are available fall and spring semester on Monday-Wednesday 8 a.m.-5 p.m., Thursday 1 p.m.-5 p.m., and Fri. 8 a.m -1 p.m. 
Summer semester on Monday-Wednesday 8 a.m.-3:30 p.m, Thursday 12 p.m.-3:30 p.m., and Friday. 8 a.m.-1 p.m.  
Social media: Instagram, Twitter, Facebook
If you or anyone you know is struggling and are unable to walk-in on campus, there are 24 hours seven days a week crisis services through the national suicide hotline (dial 988) and a crisis text line (text 741741).