Fresno City College's Ram Pantry Sets Post Pandemic Record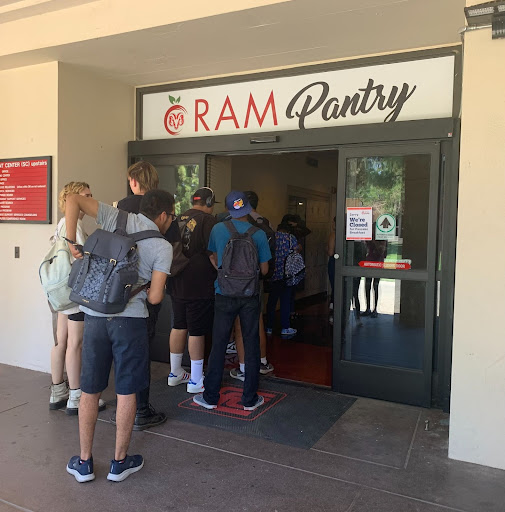 Two thousand Fresno City College students visited the Ram Pantry the first week of the semester breaking a post pandemic record. 
According to Ram Pantry Organizer Paul Torrez, the number of students going to the Ram Pantry went down drastically during the pandemic, but the sudden increase of attendance this semester has left some shelves nearly empty by the end of the day.
The amount of students this year has exceeded the pantry's expectations. "We weren't thinking we were going to have a huge rise in numbers [of students] but we were wrong," Torrez said. 
Torrez said on the first day the pantry was fully stocked. "It looked beautiful, things were on the shelves, there was enough stuff that I thought would last for at least a week, but after the first day I thought to myself, Oh, no it's empty today."
Torrez said he acted quickly to purchase some items to restock the shelves. He reached out to his distributors to see if they could help with donations. 
The Ram Pantry does have a budget to make emergency purchases, but Torrez said they try to use that money for toiletry items and not food..  
"It is part of a consortium within the Central Valley which also includes Fresno State University, that shelves need to be stocked and restocked on a regular basis," he said. 
However, many students know when the shelves are restocked. 
FCC student Selena Lopez says she comes to the Ram Pantry on Wednesdays after 2 p.m., because that is the time the shelves are restocked. 
The Ram Pantry is doing a campaign called, "Donate a Crate." The premise is that any faculty, staff, or student can grab an empty milk crate; and fill it up with donations such as toiletries, food and gift cards. 
The distributors for the Ram Pantry are, Central California Food Bank, Vons, CornerStone Church, Craft Hines, Coca Cola, and Food to Share.  
The Ram Pantry hours are Mondays, Tuesdays, and Thursdays 9 a.m. to 4 p.m. Wednesdays 9 a.m to 12 p.m., and from 2 p.m. to 6 p.m.