Game Room Reopens After A Two Year Closure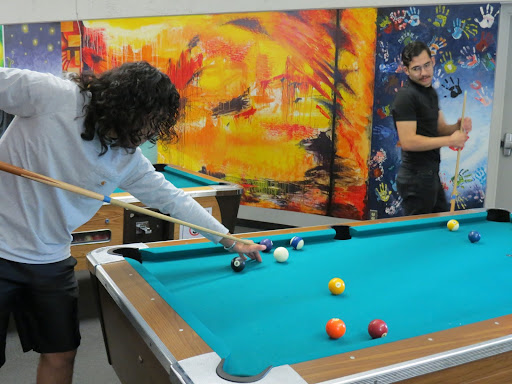 Fresno City College's game room has reopened its doors to all students after being closed for nearly two years.
The Game Room is in the cafeteria building opposite to the student lounge, and is open weekdays from 9 a.m. to 1 p.m., for all students with a current Associated Student Body (ASB) card.
The game room currently has four pool tables for 75 cents a game, an outdoor ping pong table for 50 cents a ball, as well as a variety of board games and cards are available for free. 
None of the games have a time limit on how long students can play, but the pool room does have a capacity of 15 people. 
If students need coins to play, the front desk of the student lounge can do cash exchanges. Bills can be withdrawn from the EECU ATM at the entrance of the RAM Pantry.
Student Activities Office Specialist Heather Gray said that they are planning tournaments throughout the semester, which will be open to all students. This includes a pool tournament later this month. 
There have been some changes since the shut down in March 2020. Due to little use even before the pandemic, the arcade machines have been permanently removed. A fourth pool table has been added in their place.
Hours and capacity are subject to change, Gray said, but students can go to student activities if they have any questions. 
"The piece of college life that has been missing these last few years is that ability to have community, so you can grow, not only academically," Gray said. "That's what college is about."
Some students like fire technologies major Sebastian Vellandi and kinesiology majors Paul Sanches and Melia Kamalani use it to relax in between classes.
This community is being built day by day. Student Assistant Sever Vang said there have been more students using the game room than prior to its shutdown.