Not Your Ordinary Vending Machine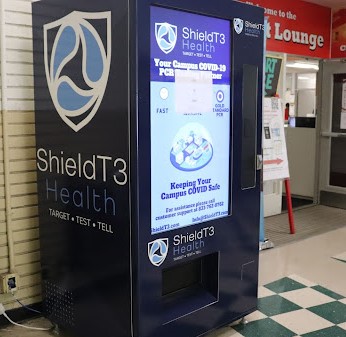 Fresno City College has a new vending machine but it's not for food or drinks. It's for testing COVID-19.
According to FCC Vice President of the Administration Services Omar Gutierrez, the testing options for staff and students will continue through a vending machine option.
The current testing site located in room 114 at the Old Administration Building will be open for now, but it will not remain when the testing machine is running. 
The date for when the machine will be in service is currently unknown. 
Gutierrez said the same process that was used to test the samples before will remain the same. The wait to get results will not be affected.
The machine will include two QR codes, one to log in and the other to dispense a test. Gutierrez said that there will be instructions added on the floor, similar to how the instructions are provided at the physical site.
Any cell phone will be able to use the machine. If students or staff do not have a cell phone there will be accommodations. 
"We will have some side stock so those people who do not have a mobile device can still get tested," Gutierrez said. 
The machine is located near the entrance of the cafeteria, next to other vending machines. A dropbox is located on the side of the machine for the samples. Hand sanitizer will be provided on the side as well. 
For students and staff who need to get tested, the physical site in room OAB 114 is open Monday – Thursday 9 a.m. to 6 p.m. FCC also has a testing site for the community located in the Cafeteria Staff Dining Room open Tuesday – Saturday from noon-7 p.m.
FCC film major Melanie Johnson has some concerns about the overall effectiveness and accuracy being that it is a machine. However, Melanie Johnson believes It could be a good way to avoid the amount of human contact. 
Another concern expressed by computer science student and football player Isaiah Johnson, is that "The downfall is that a lot of people touch it, you know what I'm saying? They're not wearing any gloves, and there's gonna be a lot of people hanging around the vending machines," He said.