FCC Cafeteria Expanding its Food Options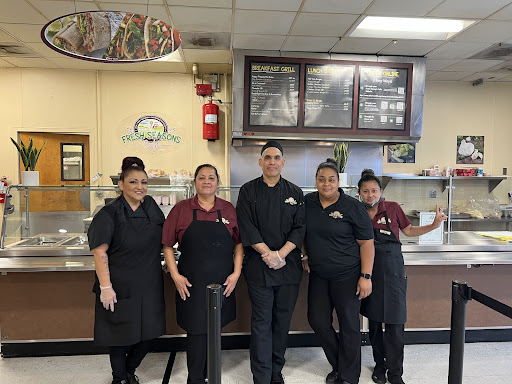 New healthier food options are coming to Fresno City College's cafeteria according to the college's food service director.
The cafeteria is one of the many spots where students hang out to eat, study, or wait for their next class. Over the last few semesters, food options have been limited due to the shortage of students caused by the pandemic. 
Now that students are returning, there is going to be a wider selection. "More students means more food," said FCC Food Service Director Carolyn Foust. She has worked in the cafeteria for 22 years, handling orders, choosing the food menu, scheduling, and hiring workers. 
The most popular meals that students purchase are burgers, fries, and chicken strips. "Anything that includes fries," Foust said. 
Among the items making a return to the cafeteria this week, a salad bar will be introduced that will provide students with healthy and fresh meals. This will allow students to have healthier options of whole grain fruits and vegetables. 
According to Foust, they also plan to implement a new breakfast bar which will include a "make your own" yogurt and granola section.
Many students feel that there is a good selection of meals offered that range from healthy and unhealthy, but some areas could be improved. 
"It's a really good selection, but there could be a little more juice," FCC psychology major Timothy Reney said. Other students feel that some of the food is overpriced. 
Reney said he chooses certain meals such as a burger and fries because not only is it cheaper, but it also makes him feel more full and nourished. 
Roxas Vindiola an English major at FCC, said the ratio of food available is unfair and slightly overpriced.
Students notice when looking in the refrigerator section, it was mostly empty, with cups of mixed fruits, healthy packaged sandwiches, and juice.