New Science Building Groundbreaking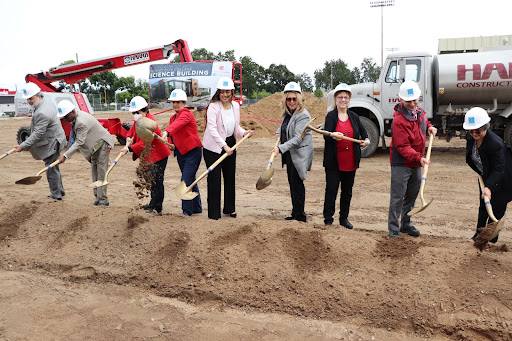 On Thursday April 21, at noon a groundbreaking ceremony was held in celebration of the new $87 million Science Building on Blackstone and Weldon at the construction site.
The New Science Building was said to aid in the parking demands on campus and will be home to various stem-focused classes, having some classes move from the current science building to a more modernized space.
The building will also be an extension to the Design Science Middle College High School
"I am thrilled this is not built in the center of campus," said Superintendent Bob Nelson of the Fresno Unified School District, in remarks to where they are currently located.
The building was funded by Measure C, a bond approved in 2016 to allocate $485 million from the District to refurbish and maintain community colleges. $79 million was from Measure C, $5 million came from Fresno Unified, and $3 million was provided by Fresno City College's Budget
The State Center Community College District Chancellor Carole Goldsmith paid homage to the Native American community who, according to Goldsmith, loved the ground that the building is being built upon.
"Our College sits on this native American land and this incredible rich history that will not be forgotten in time," said Goldsmith.
Speakers like Keith Bergthold, executive director of the Fresno Metro Ministry, spoke on the significance of having the New Science Building on the main roads of Blackstone, stating "Blackstone is the spine of Fresno," and encouraged the city to catalyze billions of dollars to Blackstone Avenue. 
Several of FCC's Science and Engineering department came out and spoke on the podium about their thoughts about the new building.
"At present we only have one classroom for engineering and no dedicated space for students to build projects, we will now have two classrooms, and the 'Makers' space," said Shirely Mcmanus, Dean of the Engineering Division.
Biology instructor Nuria Denis-Arrue spoke about accommodations such as this for the increase of enrollment in the stem related programs saying, "We were literally bursting at the seams, the facility was not enough to service these students." 
Physics Instructor David Balogh addressed his appreciation for the students who also made this possible, for their support of the staff and for their tenacity and failures.