Sexual Assault Awareness with FCC Psychological Services and Title IX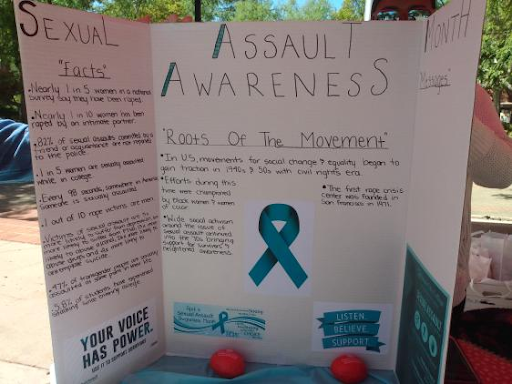 Fresno City College Psychological Services and Title IX will be hosting events throughout sexual assault awareness month(SAAM) aiming to support and provide resources to survivors.
On April 5, an event was held in the main fountain area called Chalk-It-Out, where students were encouraged to draw, write quotes and express their feelings. 
During the event, students were given the opportunity to grab pamphlets. The information contained about sexual harassment, domestic violence, and self-care after trauma along with phone numbers to domestic violence and suicide hotlines.
Gladdey Donsanouphit, deputy Title IX coordinator said, "We want to help survivors and provide help."
Students were curious about the booth, interacting by drawing, talking or taking free merchandise provided. Many asked about sexual assault statistics and many were suprised men could be assaulted too.
For Sexual Assault Awareness month, two more events will be held to support its survivors.
On April 21 from noon to 2p.m in the Free Speech Area is The Bandana Project event, which is a public awareness campaign aimed at addressing the issue of workplace sexual violence against farmworker women in the United States.

An artistic approach will be used in which white bandanas will be given out to be colored or give motivating statements to support survivors.

The final event closing Sexual Assault Awareness month is on April 28, from noon to 2p.m by the main fountain is Denim Day, where students and staff may participate in the movement by wearing denim. This project is aimed to show it's not the survivors' fault for the assault.
Students will be encouraged to take photos with photo frames and props to commemorate survivors and the sexual assault awareness movement.