Fresno State College Republicans Bring Speakers with White Nationalist Ties, Sparking a Protest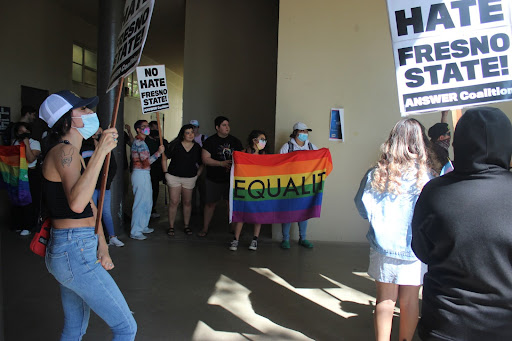 The Fresno State College Republicans Club invited three far-right speakers for a talk at McLane Hall on April 1, sparking a protest on campus attended by multiple activist groups, including both Fresno City College's and Fresno State's United Students Against Sweatshops (USAS) groups.
Kai Schwemmer and John Doyle post videos on YouTube about their conservative views, including a podcast hosted by Schwemmer. Carson Wolf runs an Instagram account with the same style of content, and is a reporter with Campus Reform.
The speakers Schwemmer, Doyle, and Wolf all attended the America First Political Action Conference, organized by Nicholas Fuentes, who has been described as a white nationalist by the Anti-Defamation League and the Southern Poverty Law Center.
Both the event and the protest had about 20-30 people in attendance.
Before the event began, attendees chanted "USA" and "Putin" in response to the protests while Doyle and his supporters came out holding up a Russian flag.
Various slogans and phrases were chanted, including "No hate at Fresno State" and "What do we want? White nationalists off our campus! When do we want it? Now!"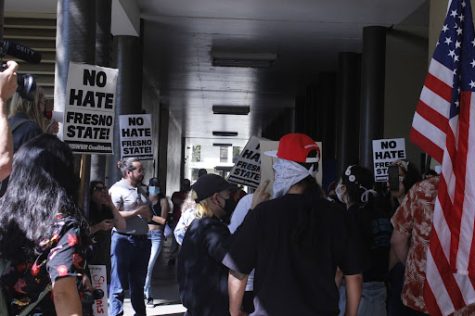 Signs such as "Death to fascism" and "I value my classmates' well-being, NO HATE AT MY UNIVERSITY" were displayed by protesters. Other protesters displayed multiple LGBTQ pride flags for the LGBTQ community.
Dr. Sudarshan Kapoor, a professor in the philosophy department at Fresno State was in attendance, and spoke in support of the protest before they all had marched to the front of the Henry Madden Library.
According to Fresno State's Public Information officer Lisa Bell, they are committed to freedom of expression, "Recognizing student organizations and university-affiliated groups, including those who invite speakers whose expressed values conflict with those of the university."
Both Fresno State's and Fresno City College's USAS are affiliated to the nationally recognized student-run organization that runs strategic student-labor solidarity campaigns with the goal of building sustainable power for the working class.