Fresno City College Music Professor, Nominee for 64th Grammy Awards
A professor at Fresno City College has been nominated for a Grammy Award.
Kevin Cooper is a music instructor and member of the musical group AGAVE. Their 2021 album "American Originals – A New World, A New Canon," was nominated in the category of Best Classical Compendium.
Cooper has been with FCC since 2009, and leads the guitar program, teaching a mixture of classes, like music appreciation and music fundamentals.
When the list of nominations was released on Nov. 23, 2021, Cooper was stunned.
"I was surprised and elated when I saw the news that we had been nominated," Cooper said in an email to The Rampage. "They were announcing the other nominees such as Olivia Rodrigo, Chick Corea, San Francisco Symphony and other huge artists, then, they called our name. Unbelievable!"
He mentioned "that [it] would be nuts" if his group were to win the award.
"Ultimately, I would be the same guy and musician but, the increased attention given to the extraordinary music on the recording would be well-deserved, and long-overdue," Cooper said.
The Grammy Award nominated project was created with inclusivity in mind, featuring music from all over the Americas.
For example, there is music composed by Florence Price, the first African American woman to have her music performed by a major symphony orchestra, and Justin Holland, a free black guitarist from Ohio who lived in the 19th century.
AGAVE came together in 2008 in Los Angeles and was originally named Agave Baroque.
Cooper said he will be attending the 64th Grammy Awards in Los Angeles, California.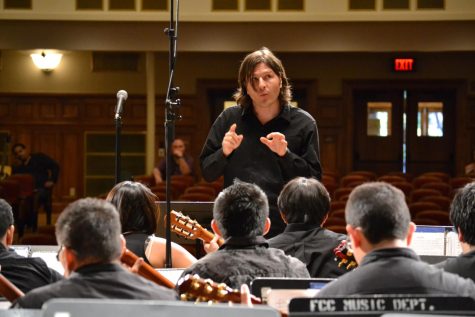 "It should be a fun party regardless of the award outcome," he said.
Both his coworkers and former students are excited about his nomination.
Cyndie Luna, dean of the department of Fine, Performing, and Communication Arts at FCC, believes that Cooper's nomination sets a good example for current students in the music program.
"People wonder, 'well, if I get a degree in music, what do I get to do?' Dr. Cooper is teaching at this amazing school and earning a Grammy nomination at the same time. That's pretty incredible," she said.
Carlos Vazquez, guitar teacher at Sanger Unified School District and Cooper's former student, said he was "so proud" when he heard the news. "I know how hard they all work, and they definitely deserved it," he said.
Brandon Mendez, another former student of Cooper's, is also excited about the nomination.
"Ever since I have known him, he has always demonstrated great work ethic and commitment to furthering his musical career," Mendez said. "I think I speak for everyone when I say that we are lucky to have him as a part of this school and community."
The 64th Grammy Awards is postponed until April 3, due to the current surge of the omicron COVID-19 variant and will air at 5 p.m. PDT on CBS.