Trustee Luncheon Highlight FCC Student Hunger
President Carole Goldsmith briefed new members of the State Center Community College board of trustees on recent developments on the Fresno City College campus during a luncheon in the Old Administration Building on March 20.
Trustees Annalisa Perea and Magdalena Gómez as well as several division deans, the Associated Student Government, and editors of the Rampage attended the event.  The luncheon was followed by a tour of the campus, guided by Goldsmith herself.
Among the topics discussed at the lunch were the elimination of mandatory placement tests for English and math, as well as the status of the Ram Pantry.
The trustees explained what being a trustee meant to them and why they felt that their role is important to the college community.
"Being a trustee is bigger than a council member," Trustee Perea said. "A trustee gets to make decisions to grow the type of people we want in our community."
Trustee Gómez explained that she grew up in Selma, a rural community where she worked in the fields with her family to pay her way through college. Gómez praised the diversity and uniqueness of the Central Valley and said that she became a trustee to, "Engage and bring economic opportunities to the valley."
Among the discussion of the various topics, student hunger and the Ram Pantry seemed to hold the focus of the luncheon.
In a video interview Rodney Olsen, biology instructor, discussed witnessing student hunger first hand, and articulated the seriousness of the issue as well as the important role that the Ram Pantry plays on the FCC campus.
"She had a conflict with when her classes met and when she could come and get food. She was worried that if she couldn't get the food she would go another weekend or week without it," said Olsen, "I remember her telling me that she was so hungry. The fear from that was present in her eyes."
Trustee Perea, a council woman and FCC Alumni, explained that Ram Pantry was not something that was available during her time as a Ram and is enthused about the efforts that have been made to promote student health through proper nutrition.
"It [Ram Pantry]is an important resource that we need to continue to invest in," Trustee Perea said. "Affordability extends beyond tuition," and includes costs such as food and transportation.
The trustees celebrated the college for its achievements and continual growth and pledged
to encourage and demonstrate their support for FCC.  
"I am with you," Gómez said her heart is in the right place working with FCC.
She added she and Perea were "two females who knew we wanted to give to our communities."
About the Writer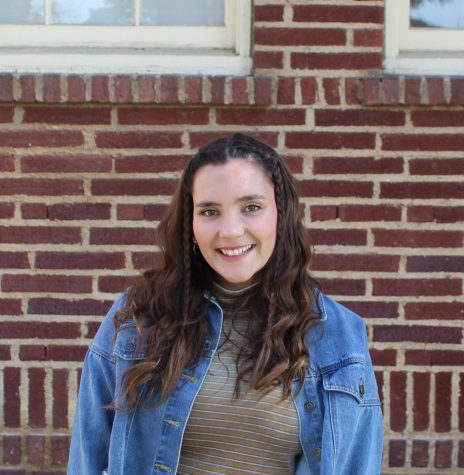 Hannah Lanier, News Editor
Hannah Lanier is the 20 year old New Editor and reporter for the Rampage at Fresno City College. Born and raised in Fresno, California, Lanier is the youngest...