In Its Third Year, March Is About Much More Than Women's Issues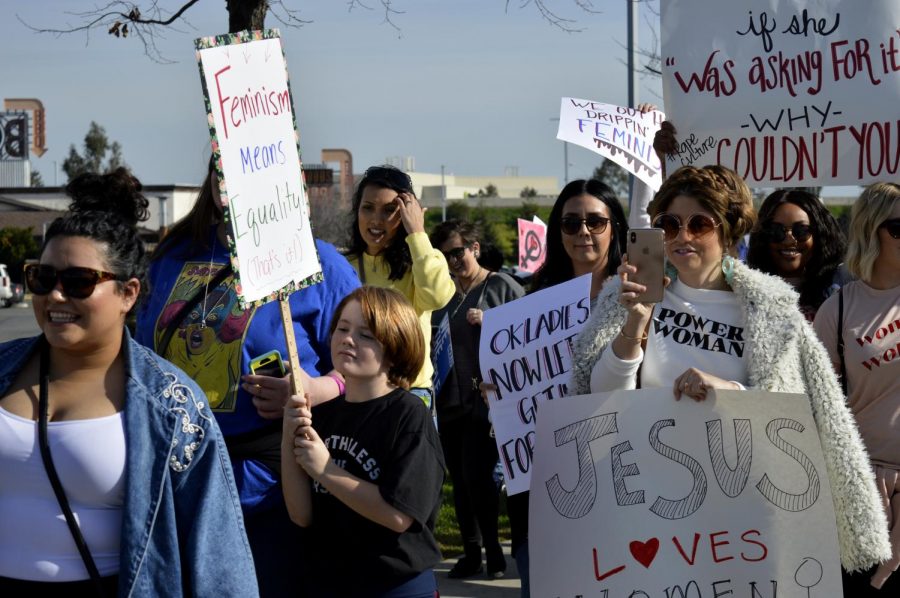 Thousands rallied together at the third annual Women's March, Saturday, Jan. 19 behind the River Park shopping center.
The gathering drew not only women, but men and children. Activists from the LGBT community marched side by side, carrying signs in support of women, LGBT or otherwise.
Diverse as the slogans on their signs — about equal pay, women's rights, immigration, Title IX — the marchers first listened to an impressive list of inspirational speakers before heading west on Nees Ave toward Blackstone, making their way south to El Paso and wrapping around back, almost encircling itself as it made its way back.
A heavy police presence ensured a peaceful event, though there were few protesting. Marchers chanted battle cries while those that drove by honked their horns in support.
"It means more than you can think of," Sen. Melissa Hurtado, representative for the 14th Senate District said. "It's the type of movement that we need to continue to have in order to support one another; we shouldn't be afraid, and we need to stick together outside of the march itself."
What was originally started by a handful of students responding to the election of Donald Trump in 2016  has grown immensely, drawing support from the community through organizations like the Center For Nonviolence, Planned Parenthood, SIREN and the Dolores Huerta Foundation.  
"We wouldn't be where we are today without the support of everyone here and the Women's March California," Kim Slavan, who has been involved in the movement since 2016 after joining a protest against a department store's refusal to implement transgender restrooms, said.  
Among those who addressed this year's theme "truth to power" were Senator Hurtado as well as performing artists Fool's Collaborative, Navi Jackson and Ashlee Gerard to name a few.
"We read all the bios and decided what was the greatest mix, what were the different messages, and what was the greatest diversity we could put on the stage," Slavan said.
For husbands like John Acosta, joining the march was about "being together, supporting, standing up for our women."  He brought his three daughters to support his wife, Aileen Acosta, a senate district candidate.
"We have to speak up for the people who don't have a voice," Ashlee Gerard, a vocal performing artist, said. Gerard said she became involved after seeing injustices to those close in her life firsthand.  "Everyone has a woman in their life that has experienced some inequality; I've had experiences where I've been marginalized for my sex, and we all need to advocate for each other; that's why we're here."
Local musical artist Navi Jackson said she was so inspired by this year's event that she wrote a still untitled song to share her thoughts about similarities in women's struggles.  
"I'm a bisexual feminist. It means the world to me," Jackson said. "Why would I not want equality? Why would I want to be discriminated against for my choice of partner? I should not be entitled to less."
Others spoke about the commonality of the struggle.
"It's not just about the trans community or just about the LGBT community, it's about all of us together," said Ellie Dote, who identified herself as a straight, cisgender male and Republican before coming out as a transwoman several years ago.  "We need to speak out and stand up against the patriarchal ideas that are so prevalent."
"I never understood the issue of social inequality, how different groups are viewed through the eyes of others, but after experiencing that firsthand," Dote said, "I have to speak out and tell people that I too am a person, just like the immigrant next to me."