New ASG Leadership Sworn in at Inauguration Ceremony
An earlier version of this article misspelled Christopher Leo Washington's and Ernie Martinez' names. 
Three new officers were sworn in to the Fresno City College Associated Student Government at the Student Senate Chambers on July 18.
Christopher Leo Washington became the second African-American ASG president elected in FCC history since 1972. Angela Van Gilder was sworn in as vice president, and Carlos Rodriguez became the new student board trustee.
"I'm extremely humble and gratified that life afforded a little Brooklyn boy whose parents passed away an opportunity like this," Washington said.
ASG advisor and director of student activities Ernie Martinez swore in the three elects in a short ceremony. After the ceremony a representative from California senator Kamala Harris' office awarded Washington a certificate of recognition for his presidency.
Goldsmith then asked each newly appointed official to share what weight their new roles played in their lives.
"I first became senator because I wanted to make a difference especially for students with disabilities," Van Gilder said, "Because often while they may receive the services they need from the disabilities student center they still go feeling like they're very misunderstood and they don't really have a place or a voice."
Washington said he decided to join student government in order to speak for the disenfranchised.
"I don't think you have to hold a political office or a public office to speak up, if you have the ability to have a voice you should speak up, and if you don't think anyone is hearing you find someone who will speak for you," he said.
Washington said through his presidency he hopes to alleviate student hunger, and increase student participation. He's implementing an open door policy in his office as a way to bridge the divide between ASG and the student body.
"I think being approachable is the first step to having students become involved," Washington said, "My intention is to start a student led movement that will foster change and growth on the Fresno City College campus.
Goldsmith shared her enthusiasm in finding ways to increase student involvement in local politics.
"It's important that people become involved in their institutions." Goldsmith said, "I'm excited about having someone who is going to help to shape the voice and be the megaphone for people."
About the Photographer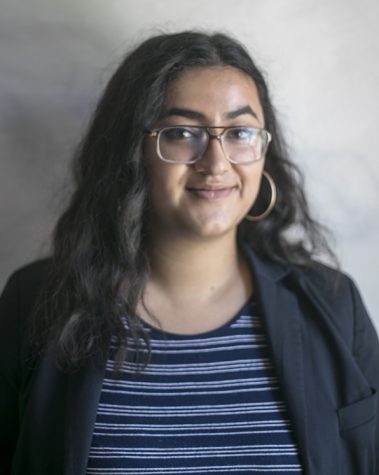 Paulina Rodriguez, Reporter
Paulina Rodríguez is a 21-year-old journalism major attending Fresno City College. She grew up in Chavinda, Michoacán, Mexico and immigrated to the United...