Kathleen Schock: Change Through Education
Reporter. Public relations expert. TV producer and writer. News associate. Corporate spokeswoman. Advertising copywriter. Name any job in the media landscape, and Fresno City College journalism instructor Kathleen Schock has probably worked it — and excelled — in it.
In February, she added another title to her already ambitious resume: deputy director for the California College Guidance Initiative, a statewide initiative that eases the transition from high school into college and beyond.
"What I like about the California College Guidance Initiative is that it's a really comprehensive approach of thinking about how to make a systemic change in order to remove some of those barriers to student success," Schock said.
A Fresno native, Schock attended Roosevelt High school and took classes at FCC while completing her bachelor's degree in international relations at the University of Southern California. She said it was her father who taught her the value of pursuing a higher education.
"My dad was the most brilliant person I've ever met in my life, and he went from working in the fields to becoming a physician," she said. "He taught me that it is higher education that made the difference for him in his life, and because he had that opportunity, the course of my life was entirely different than his childhood."
When she was growing up, it was her love of movies and desire to go into acting that got her interested in pursuing a career in the media.
"I took a lot of theatre classes in high school and college, and really got into plays and theatre first, but then also had a lot of academic interests as well," Schock said. "Somewhere along the way I thought, 'I can kind of combine those two things by getting into journalism.'"
The lack of positive media portrayals of minorities opened her eyes to the power the media holds in shaping society's reality.
"When Vanessa Williams won Miss America, it was the first time I saw a black woman being celebrated for her beauty in that way," she said. "And that was really pivotal for me."
Shock said it made her understand how important representation is, how damaging it can be when there is a lack of representation, and what happens when the representation that exists is negative in nature.
Schock attended USC for her undergraduate studies and spent her last semester abroad in Zimbabwe. When she returned, she signed up for AmeriCorp, a year-long national volunteer organization that pairs each person with a non-profit. She worked for the I Have a Dream foundation, a dropout and scholarship program located in South Central Los Angeles.
"Being able to support the students that we worked with was just incredible. It was a really eye opening experience," she said. "I think it really changed what our obligations are as people to the communities that we live in."
Schock then found herself in television. She started off as a production assistant on a Lifetime television talk show and worked her way up and eventually to become a production manager for "House Beautiful," an A&E show.
"I found that I wanted to do something a bit more meaningful, and that's where that pull for journalism came back," she said. "Journalism kept calling."
In 2000, Schock went back to school, attending UC Berkeley and earning her master's degree in journalism in 2002.
Then she moved to New York City, where she worked for NBC, providing production support for "The Today Show," "The News with Brian Williams" and "Dateline NBC."
After a year, she moved back to Fresno and worked as a television reporter for KGPE CBS 47.
"I think the thing that I learned the most as a journalist, is that people deal with a lot in the course of their lives," Schock said. "And they do it usually with enormous grace and enormous dignity."
She said her responsibility as a reporter was to "elevate their stories, and document their experience, and in the process, did my part to capture this moment in time, and all of the diversity of experiences that people encounter."
Schock said one of the most impactful moments in her journalistic career was covering the Marcus Wesson trial, the worst mass murder in Fresno's history.
"It was a really emotional case, there were several very small children who were murdered," Shock said. "The night of the crime, I remember struggling to get through the night without crying on air."
In 2006, Schock left reporting for a position as a corporate spokeswoman at Pelco. Her father had just been diagnosed with cancer, and she wanted to be present for his treatments.
"It was a difficult decision to walk away from journalism; it had been my dream for so long," she said. "But journalism can take a lot out of you, and I was really tired."
She worked at Pelco for five years, and in 2010 became the host of public affairs for Fresno Comcast subscribers. In June of 2011, she was appointed director of strategic communications at Fresno State, a position she held until 2017. During her time at Fresno State, Schock received her doctorate in educational leadership, graduating in 2017.
Schock transitioned into teaching in spring 2017 as a part-time instructor at FCC, inspired by the 2016 presidential election.
"One of the things that I noticed in that election was I didn't feel that the population was very well informed when they went to the polling place," she said. "What I began to be concerned about was the ability of the public to be critical about the news that they were consuming."
She tries to instill within her students media literacy skills.
"My hope for my students is that they walk out of my class towards a more critical eye towards the media that they consume," Schock says. "We are surrounded by information everyday, and I want my students to be able to look at the information that is surrounding them and think about who is crafting this message, what do they want me to take away from it, what values are being communicating in this message."
Schock teaches two classes at FCC: Intro to Mass Communications, and Race, Gender, and the Media, both of which emphasize a critical exploration of media messages and representation.
Public relations major Toni Woodruff said Schock's class was the first she took after switching her major to journalism.
"She just literally sparked a fire inside of me, and so I definitely credit a lot of my determination and motivation to her," Woodruff said. "Her presence is known in the room, whether you're a student, or she's walking down the hallway."
Gabbi Micheli, a journalism student, says Schock's success in the media landscape brought reassurance to her.
"It was very relieving to see someone who had gone through that successfully," Micheli said. "It really reassured me that I'm not the only one that's alone in what I want to do."
Schock is now settling into her position as deputy director for the CCGI, working to partner with local high schools, community colleges, and California state universities throughout the Central Valley region to produce a collaborative ethos between institutions.
Schock says her career field evolves as a result of her continuous desire to grow.
"Throughout my career, I think the thing that I've been looking for the most is an opportunity to be creative," Schock said, adding that she wants to help give back and help people live better lives.
"I define success as living a life with authenticity, living a life in which I am bringing kindness to situations," Shock said. "I think if I'm doing that then I'm doing pretty good."
About the Photographer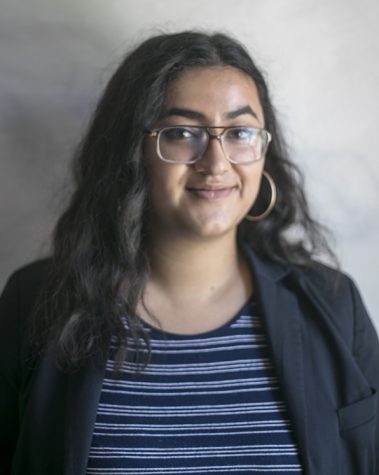 Paulina Rodriguez, Reporter
Paulina Rodríguez is a 21-year-old journalism major attending Fresno City College. She grew up in Chavinda, Michoacán, Mexico and immigrated to the United...