Valley Organizers Stress Voting Power at the Second Annual Women's March
Central Valley organizers used the second annual Women's March on Jan. 20 to push people to the voting polls in the upcoming 2018 midterm elections.
The march was one of many throughout the nation, and was a continuation of the Jan. 21, 2017 nationwide march which brought out millions of people.
The theme at the Fresno Rally was "Hear our vote." The event featured 18 speakers, including civil rights activist, and co-founder of United Farm Workers, Dolores Huerta. Participants included people from different nationalities, genders, sexualities, and ages.
The march started in the corner of Nees and Fresno between 11 a.m. to 3 p.m. Participants began gathering in a neighboring parking lot at 10:30 a.m. Thousands showed up to the event, to show their support for a myriad of causes such as education, immigration, LGBT rights, sexual harassment and the environment.
The rally began with a blessing ceremony by First Nations Spiritual Advisor, Keith Richards, followed by a dance ceremony by the First Nations and American Indigenous Veteran group.
Later, Huerta told the crowd, "It's not enough to vote. We've got to organize other people to vote."
"We have got to change the way that they educate our women. We do not want to be educated to be victims," said Huerta. "We cannot let anyone stand in our way of getting justice."
Other notable speakers were Fresno City College students Jewel Hurtado and Sophia Bautista.
Bautista, 19, organized last September's DACA march in Tower District.
She said what needed to be changed most is "complacency."
Bautista said she hopes that "more young people will vote and be involved. I always see them around marches, but they don't make a tangible presence in the polls."
There were several #metoo signs, and speakers shared poems and stories regarding sexual abuse and harassment.
Soon-to-be mother and FCC student Jewel Hurtado, 19, is the youngest California Democratic Party delegate in the Central Valley.
"I am a survivor of sexual abuse and I'm sure sadly, many of you can say the same," Hurtado told the crowd. "I am marching for the little girl inside of me who was too scared to say anything because of how it would make me look, or what it would do to my reputation."
Hurtado led the crowd in singing "Quiet" as the march commenced.
Participants made their way west towards Blackstone Avenue, then went South to El Paso, and looped back around to Nees. Honking could be heard as participants began marching.
Huerta and Bautista held the "Hear our Vote 2018" banner as they led the march.
The march featured a strong police presence, and volunteers wearing safety ambassador reflective vests directed the flow of traffic. Participants remained on the sidewalks, something FCC M.E.Ch.A members weren't comfortable with.
"I want to take it to the streets," said M.E.Ch.A member Josie Madrigal. She referenced last year's Black Lives Matter protest in June, and its impact, which shut down a Highway 41 off-ramp.
Madrigal hopes more people show up to marches.
"It's not about the individual mindset," said Madrigal. "It's about coming here as a community. Coming here and representing those who can't be here, who don't have a voice."
FCC M.E.Ch.A members led a chant "No justice, no peace" as they made their way down Blackstone Avenue.
Tory Garcia, FCC LGBTQ Spectrum club member said they hope for people to "not just support when there's a march or protest."
"There's so much power but it tends to dwindle after," they said.  "And that's a very big problem, in not just this community but all over the country."
Around 1:30 p.m., a crowd gathered at the corner of Blackstone and Nees, as protesters wearing "Make America Great Again" hats began yelling "Reject the division of the left." The crowd responded with chants of "Dump Trump."
Gina Portillo, nurse practitioner and Donald Trump supporter, said she was happy she came to the march.
"Only in America can we do this, be divided like this and still be able to speak," Portillo said. "I believe that each one of us has a right to say what we have to say, and whatever you believe in, you have the right to say it and speak it."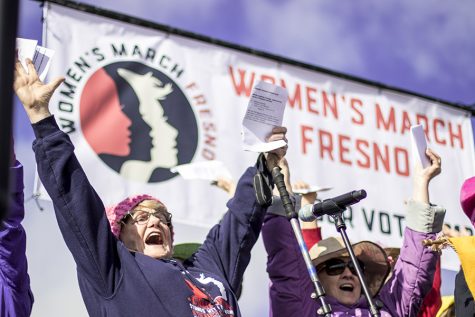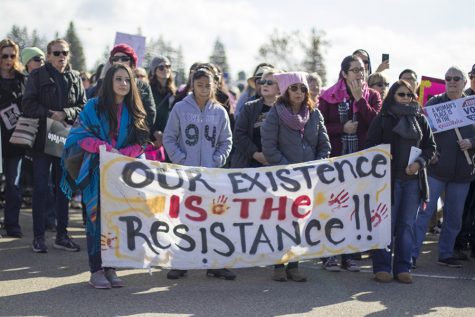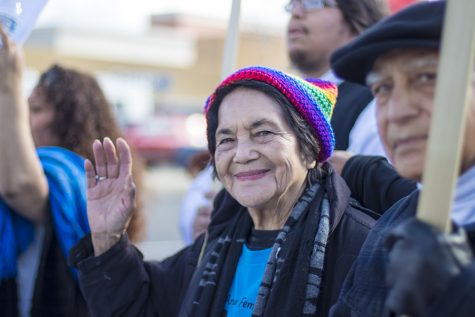 About the Contributors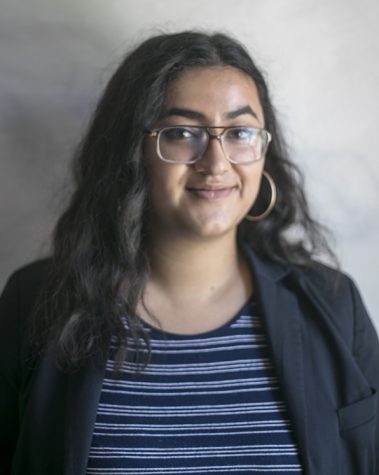 Paulina Rodríguez, Reporter
Paulina Rodríguez is a 21-year-old journalism major attending Fresno City College. She grew up in Chavinda, Michoacán, Mexico and immigrated to the United...