Botanical Garden Is Campus' Hidden Gem
The fountains and architecture aren't the only beautiful things on the Fresno City College campus.
The next time you're leaving campus and have some extra time, take yourself on a tour of the biology department's botanical garden.
Tucked right near the Math & Science building, the botanical garden has been around since the 1970s. According to Steve Da Silva, the current director of the garden, he, student horticulturists and work study volunteers all make sure the garden is kept up.
The hidden gem has a large 10,000 gallon pond, home to over 15 koi fish. In the pond vibrant yellow orange and white koi swim along with the vivid blue and orange ones.The entire area is surrounded by an array of native and tropical plants to set a tranquil vibe for students.
The botanical garden is used as an outdoor lab for botany and photo students, Da Silva said. In the spring semester only, the garden is used for an adaptive horticulture program for students with disabilities. It stays open to the public throughout the year.
"It gave me positive vibes, the variation of plants, fish, and small crops come together to create such a soothing environment," said Autumn Simpson, a second semester kinesiology student.
Simpson refers to the garden and its features as "a therapeutic little get away" where she can take photos and videos for her snapchat as well as pass time.
While browsing the garden, Da Silva is always nearby to answer questions while visiting, usually in the room with the huge snake. Oh yeah, there's a snake.
About the Contributors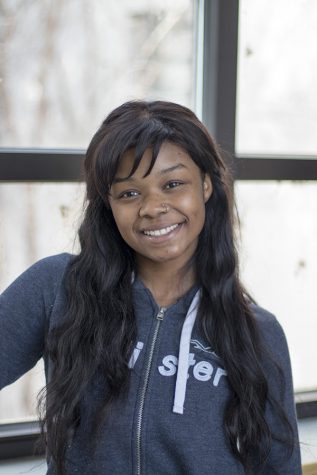 Sasha Saunders, Reporter
Sasha Saunders was born in San Francisco, California in 1998. She lived in various locations around Oakland up until the age of 3 when her mother, who...