As Accreditation Nears, Administration Sets Goals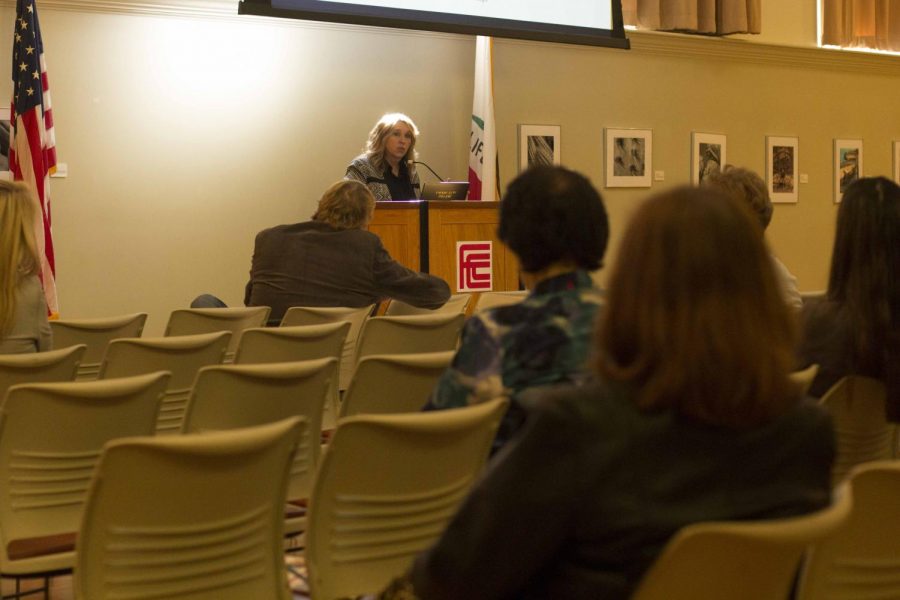 Fresno City College teachers and administrators met to discuss accreditation status requirements and evaluate the school's educational goals on Nov. 9 in the Old Administration Building.
Speakers outlined the school's objectives for transfer and completion rates of students based on data compiled over the last eight years.
Rick Santos, a linguistics instructor and co-chair on the Institutional Research and Effectiveness Committee, spoke about the school's statistics for course completion and transfer rates, and the goals the school wishes to attain in the future, as well as state expectations.
"We want our goals to be aspirational, but we want them to be realistic at the same time," Santos said. "Actually, we are doing better than the state is already on average, but we still want to have a goal."
Carole Goldsmith, FCC president, addressed the school's "Core 9" values, which began as a list of 53 values and was narrowed down by administrators to nine essential educational objectives.
Goldsmith noted that the the original list of 53 measurements the school had previously tracked were an extensive evaluate and record, and joked about its over-complexity.
"Why would you want to give the IRS 53 chances to look at your tax return," Goldsmith said. "All 53 were wonderful…we got it from 53 to 28, then to nine…nine essential pressure points where we know will make a difference."
Those in attendance were asked to voice their opinions and input on the success of FCC's ability to meet the student's needs.
Rio Waller, an instructor in the computer information technology department, commented on the success and flexibility of integrating online learning with face to face class time.
"I think we need to take more of the things that are working…because that's how we are going to reach those [course completion] percentages," Waller said. "I have a proven number right now at 80 percent, and I'm holding it, and I'm doing it because I'm offering that flexibility between online and face-to-face instruction."
Cyndie Luna, FCC's accreditation liaison officer, took a moment to thank all the faculty and staff who have contributed to, written and edited the accreditation report, for which teachers from each department have been asked to submit student progress reports from their classes.
The report is finished being written, and is now being finalized and reviewed for grammatical errors.
The school's teachers and staff have been compiling departmental reports which will be submitted to the accreditation board in January. The board will then send a team to the campus in March to examine operations and interview faculty, and validate the findings in the school's report.
Over the summer of 2018 the Accreditation Commission for Community and Junior Colleges will evaluate the school's submitted report and decide FCC's accreditation status.
Colleges are reviewed for accreditation every seven years, and FCC has never failed to achieve accreditation in its history.
"I think we can all agree that we want to strive to do better," Goldsmith said. "We're doing this exercise not because we have to, but because we really want to do what's right for our students."
About the Contributor
Seth Casey, Reporter
Seth Casey is a Journalism major at Fresno City College. A lifelong Fresno native, Seth graduated from Clovis West High School in 2009. After several years...