23 Graduate from FCC's Fire Academy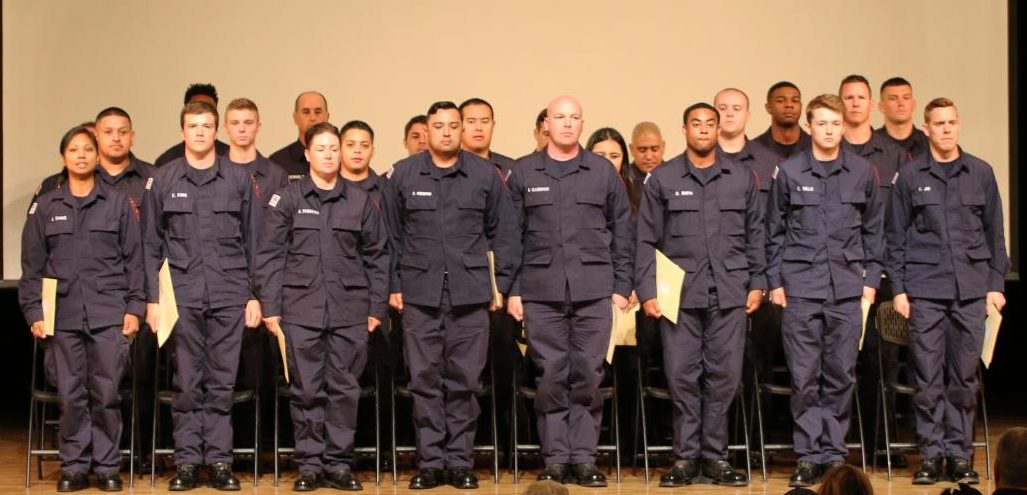 Twenty three members of the Fresno City College Fire Academy 47 graduated in a ceremony held in the Old Administration Building auditorium on Aug. 25.  
The graduates endured a rigorous eight-month training program and are now eligible to work in the field of fire technology.
Geary Baxter, interim coordinator for Fire Technology, opened the ceremony with commendations for the graduating class.
"They've raised the bar higher than I ever expected," Baxter said. "They were definitely an outstanding class."
Several members of the class spoke of their experience and the values they learned from the fire academy program.
Cadet Ryan Jay spoke about the unsung heroes that pushed and continue to push the class to achieve success. Cadet Dominic Smith spoke of the humility the program gave him.
"It [refine by fire] is a call to continue to be better," Cadet Tanner Munro explained the meaning behind his class' catchphrase.
"Being refined by fire is not just a catchphrase that we chose because it sounded good," Munro said. "The process of refinement is taking something that is not perfect, then adding heat, bringing it to a point where the impurities come to the surface. Those impurities are then removed and made the best possible product having limited flaws."
Munro said the class learned those principles through their training in the fire academy.
Class 47 is the first academy from FCC to graduate with a new curriculum. They were a part of community projects, planted trees for Fresno mission, volunteered to fundraise for the Jim Deaver scholarship and raised $8,000 to send 10 kids to Burns Camp.
The ceremony ended with the announcement of the recipients of the Captain Jim Deaver Scholarship, the first scholarship for the fire academy, which was awarded to seven of the members.
The cadets received their certificates, finalizing and awarding the hard work they've done.
Baxter said anyone interested in joining the fire academy program should apply. "[Being a firefighter] has been the most rewarding job I've ever had," he said.