Fresno City College Students and Professors Perform at LitHop 2022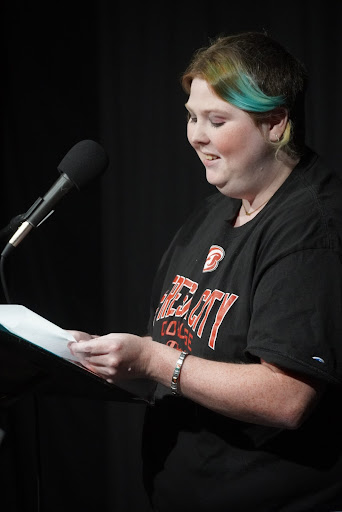 On Oct. 15 instructors and students from all over the central valley read their works of short stories, poems, and other original pieces of literature throughout the shops and clubs in Fresno's Tower District.
Professor Lee Herrick from Fresno City College, who is also the co-founder of LitHop, brought a few of his students to perform their poetry at the Labyrinth Art Collective in Tower District. He describes his students as "brave, inspiring, beautiful spirits."
Katie Quigley is taking Herrick's creative writing course for the first time this semester. Herrick has taught her to lean into what is on her mind and write about it, and that's what she did. "I tend to write about what I've been through and what I'm currently going through," Quigley said.
Quigley described her first poem "Child in Hiding" as fun "it's about playing hide and seek as a child hiding in a closet," relating to being a part of the LGBTQIA+ community while being "in the closet" at a young age.
Quiglely's second poem "A Sapphic's Sestina" is about her current relationship with her girlfriend. She wrote it as an assignment just a few days before LitHop, Professor Herrick explained to her that a Sestina was very hard to write, but hearing that encouraged her even more to perform it, "I saw it as a challenge and I really like how it turned out," Quigley said.
The last poem she performed "Know Good Man" which was about her experience in the past with living with her dad and past relationships with men.
There were seven venues which included 32 readings from student writers to award winning authors, including FCC English instructor David Campos, winner of the 2014 Andres Montoya Poetry Prize and the Annual Prairie Schooner Strousse Award for the best group of poems in Prairie Schooner. At the event, he presented poetry in the form of an abstract film.
Marisol Baca, an English professor at FCC and author of the poetry book "Tremors" was named Fresno's first female and first Chicana/Latinx Poet Laureate for 2019-2021. The venue was held at The Revue where she discussed a funeral that she attended as a child, with memories of her mother and aunt preparing New Mexico chile at her home. She was nominated for the Pushcart prize for the poem.
FCC instructor Lisa Leiberman is a freelancer and has published over 2,500 newspaper articles and magazines such as San Francisco Examiner, Backpacker Magazine, and Working Mother. She read a piece from her upcoming book "All My Bad Boyfriends," where she read about her experience with an ex-lover who turned out to be a serial criminal.
She writes the column "Sex in a Small Town" for the Valley Voice in Visalia.
April Lewis, another English instructor at FCC, is the author of her first book "Black Feminism and Traumatic Legacies." The reading was held at Splash at noon. During the event she spoke about being a queer black woman in a conservative state of Texas, having been told that she was "pretty for a black woman" and that it somehow was supposed to be taken as a compliment.
Brenda Venezia also teaches at FCC and had also read at the event, she is the founder of "Fresno Women Read" which is a small community organization dedicated to creating literary events with focus on women and non-binary writers.
The event returns from its hiatus like many others since lockdown, and has started preparing since May 12, 2022 all for the final event in October.