Mario Kart 8 Tournament Drifts through FCC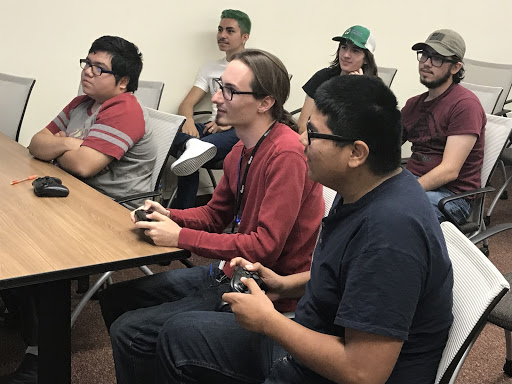 Story By: Peter Lopez, Reporter
October 23, 2018
The crowd cheered for their favorite competitors, who wore tense facial expressions, as if they were fighting for their very lives. Racers zipped around corners. Blue-shells were thrown swiftly, without hesitation. No, it wasn't the Indy 500–it was the Mario Kart 8 Deluxe tournament at Fresno City College on Oct. 16.
The free-to-join Mario Kart 8 Deluxe tournament lasted a little more than two hours, welcoming students and spectators alike. Snacks were provided to both hungry competitors and attendees. All that was required from students, should they wish to participate in future tournaments, was to bring their Associated Student Body card, available at the business office for $5.
Timothy Behl, the first competitor to arrive at the tournament, said he was incredibly optimistic and brought a high level of excitement to the atmosphere — he even brought his personal Nintendo Switch system to the event.
"I like Mario Kart, and I like winning," said Behl, who learned about the competition from a flier posted on campus.
After more than 15 competitors sign-up, the tournament began a few minutes past noon, and racers dashed around the tracks.
After progressing through multiple brackets, Behl won the competition as his favorite Mario Kart character, Ludwig. His winnings included a gift card to In-N-Out Burger and a Dutch Bros. Coffee lanyard.
Struggling to maintain his breath after winning the tournament, Behl had only but a few words to describe his Mario Kart 8 Deluxe victory, "Pretty good. Heart's still beating."