A Haunting of Hill House's Quality Scares Give Horror Genre a Bright Future
Hang on for a minute...we're trying to find some more stories you might like.
The horror genre has been a nightmare since its inception, with one good for every ten subpar horror films, fans have had to sift through a ton of dreadful duds for decades now. But in the past decade the horror genre has seen an upturn in quality of films with critical releases such as "It Follows" (2014), "Get Out" (2017) and "Hereditary" (2018) to name a few.
One of the directors leading the way is Mike Flanagan bringing both excitement and unique scares to the genre with recent releases such as "Hush" (2016), "Before I Wake" (2016) and "Gerald's Game" (2017). Flanagan continues his horror streak with "A Haunting of Hill House" which is another addition to his already impressive resume as he is the credited producer, co-writer and director of the Netflix series.
Adapted from the 1959 novel of the same name by Shirley Jackson, a classic which has a reputation of its own as a 20th century horror masterpiece, Flanagan builds upon the foundation that Jackson lay six decade before.
Flanagan documents the lives of the Crain family in the present day as adults trying to cope with the trauma of living through the horrors of Hill House and with the use of flashbacks and flashforwards to fill in any questions the viewers may have with each waning episode.
One horror mainstay that Flanagan executes well and to his advantage is his use jump scares to help develop the plot keep the story moving forward, instead of using them as filler in order to create useless scares that are seen quite often in the horror genre.
The character development is impeccable. Each episode is dedicated to one member of the family pinpointing the exact moment where their source of fear protruded out through the horrors of the house, intertwining them with the stories of the other family members. These moments of fear lead the characters to find out the history and secrets of both themselves and Hill House.
"A Haunting's" cast is full of Flanagan frequent collaborators including Kate Siegel, Elizabeth Reaser, and Carla Cugino the matriarch of the Crain family and major player when it comes to creating tension within.
The horror genre tropes on the surface are used as metaphors for real life horrors that each character deals with and allows them to mask their addictions, agoraphobia and shattered marriages using the excuse of ghost and ghouls as the source of the problems.
Standouts of the series are former Academy Award winner Timothy Hutton who plays secretive, absentee father of the Crain children and newcomer Victoria Pedretti playing the youngest of the Crain family (Nell) who is the glue that keeps the family together throughout the series.
Flanagan's ability to create scares with his choice of camera angles and framing gives the series a genuine feeling of terror closely comparing to horror classics "The Shining" and "Halloween" making "A Haunting on Hill House" a Halloween must.
Grade: 8.5 spookies out of 10

About the Writer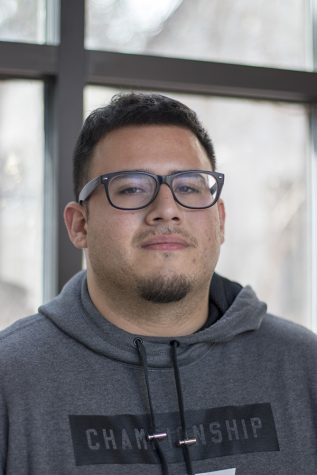 Anthony De Leon, Sports Editor
Anthony De Leon is a 23 year old 3rd year Fresno City College student and is starting his third semester writing for The Rampage and his second semester as Rampage sports editor. Becoming a Journalism student in 2014, Anthony has a passion for all things sports, music, and opinion. Born and raised in Fresno, his plan is to finish up his Associate Degree in both Journalism and Communications transfer over to Fresno State in the Spring of 2019. During his time at The Rampage he has covered numerous events including 2018 Grizzly Fest and the WBC world title fight between Jose Ramirez and Antonio Orozco.
Anthony has experience writing articles in music for his blog "Hip-Hop's Passin Me By," where he would write album reviews amongst other topics. In his spare time Anthony frequents music festivals which have included Coachella, Life is Beautiful, Hard Summer, and many others. Anthony has dabbled in amateur photography and has experience in that field. Anthony also received Honorable Mention in Sports Game Story at the Journalism Association of Community Colleges 2018 state competition. When not in the newsroom Anthony has had experience on the gridiron coaching football for both McLane and Sunnyside High School and with 4 years of coaching under his belt. Anthony's career aspirations include working for a major news organization and being a sports talk radio personality.