The Summer of Sequels: Blockerbuster Hits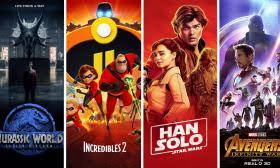 Story By: Kendall Woods, Reporter
September 11, 2018
When the dog days of summer hit, and even the pool has become too hot for your liking, the best way to cool off is hitting your local movie theatre, to enjoy a blockbuster or two. Luckily, summer is usually when some of the hottest films are released.
Summer '18 started strong, with a classic Marvel tell-all including all of our favorite characters. It appeared that things would only get better, with long awaited sequels: including Disney, space, dinosaurs, and music. Lastly, the summer blockbuster train ended with a bang: releasing the first all-Asian casted film in almost 25 years. (Yeah, you read that right.)
Marvel's highly anticipated "Avengers: Infinity War"came in hot in April, and according to The Wrap, made $415 million alone in its' first week.
Variety.com calls "Solo: A Star Wars Story" a 'dud', noting that it may have done the worst of any, out of the Star Wars franchise. It's box office total hit a small $213 million, letting down all of its' prequels.
After making fans wait over a decade, "Incredibles 2", released in June, easily became Pixar's highest grossing film– and according to Box Office Mojo, has made $562.5 million worldwide. Maybe Star Wars should take note and make their fans wait a little longer.
B
"Jurassic Park: Fallen" was not too far behind the others, hitting $415 million, as well.
And as if it needed to be proven that sequels were the thing of 2018, the long-awaited "Mamma Mia!: Here We Go Again" killed the box office, too. In fact, Mamma Mia brought in $118 million, not too far behind its prequels' release, which was just ten years ago.
Lastly, "Crazy Rich Asians" broke Labor Day box office records, adding to the grand total of $117 million, even two weeks after the initial release. The critically-acclaimed novel turned film became a successful hit, displaying an all-Asian cast, director and writers.