Mike Dana & Larry Honda Celebrated At Final Jazz Concert
Hang on for a minute...we're trying to find some more stories you might like.
Retiring Fresno City College music instructors Mike Dana and Larry Honda were celebrated by their students and faculty during the final jazz concert of the semester on May 7.
The program, dubbed "Past, Present and Future: 28 Years of Jazz at FCC" featured live performances from the Honda-directed jazz combos and the Dana-directed jazz ensemble; whom recently earned the top honors at the 2018 Reno Jazz Festival.
The evening began with performances by the South, West, East and North Combos.
The South Combo performed "All Blues" by Miles Davis and "Billie's Bounce" by Charlie Parker. The West Combo followed by performing Honda's original composition, "Fort Tejon" and another Parker classic, "Groovin' High."
The East Combo kicked off their set by performing an arrangement of "Delfino Plaza" from the video game, "Super Mario Plaza." Trombonist Jack Landseadel, who arranged the song donned a red Mario Bros. hat during this performance. It was then followed by "Chameleon" by Herbie Hancock.
Rounding out Honda's combos was the North Combo. Before their performance, the group revealed that they were wearing custom t-shirts calling themselves, "Honda's Angels" as they performed "Black Nile" by Oleo.
Between each combo, Honda was honored by the students for his 21 years at FCC.
The Dana-directed jazz ensemble then took the stage as they performed under his direction for one last time. The group performed "Koobism" by Chris Merz, "(Fall Down Seven) Stand Up Eight" by Steve Owen, "Tell Me a Bedtime Story" by Herbie Hancock, "Blame It On My Youth" by Levant/Heyman, "Tetragon" by Joe Henderson, "The Mild, Mild Midwest" and ended the evening with "Cherry Juice" by Thad Jones.
Between each song, Dana took time to reflect on his 28 years at FCC and acknowledged his students and music faculty.
The retirees expressed satisfaction with the students' performances.
"I thought the combos and ensembles did very well tonight," said Dana. "Sometimes, we forget these students have other things to do, so for them to come together and perform so well tonight is very cool."
"I thought the combos and ensembles were wonderful tonight," said Honda. "I was really happy with what they did."
Subsequently, music instructor Kevin Cooper presented Dana and Honda with commemorative plaques on behalf of the entire FCC music faculty, thanking the retirees for their contributions to the program.
Dana's wife and fellow music instructor Julie Dana also surprised the retirees with a special performance of Artie Butler's "Here's to Life" by the Vocal Jazz Ensemble, which Mr. Dana also helped teach.
Regarding the choice of song, Mrs. Dana felt that the lyrics spoke well to her husband and Honda as the enter retirement.
"The lyrics are similar to raising a toast, talking about joy and life," said Mrs. Dana. "It was appropriate for the evening."
By the end of the concert, Dana and Honda expressed that they will look back on the evening as a bittersweet swan song as they move on from music education at FCC.
"I will remember the pride I felt hearing the students play and remembering where we started from in the beginning of the semester and where we are now," said Dana. "That's immensely gratifying to me."
"It's neat to have the whole community together tonight," said Honda. "I'll think about the students' final performances with Mike and I."

About the Writer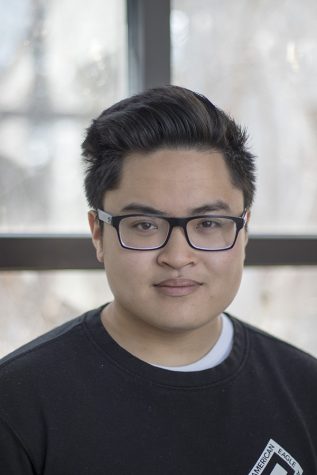 Noah Villaverde, Entertainment Editor
Noah Villaverde is a 21-year-old who currently resides in Fresno, California and is a Mass Communications and Journalism major at Fresno City College....