Third Annual LitHop to Light up Tower District and FCC
Hang on for a minute...we're trying to find some more stories you might like.
LitHop 2018, the third annual literary festival, is returning to Fresno's Tower District and Fresno City College on April 21.
Founded in 2016 by FCC instructor and former Fresno poet laureate Lee Herrick, LitHop 2018 boasts 140 writers at over 40 different events. The festival is a Fresno Poet Laureate Initiative and fundraiser for the Fresno Arts Council. LitHop runs from 1 to 8 p.m. and is free to the public.
"LitHop is an exciting day full of poets, writers, and lovers of literature and the written word," Herrick says. "I dreamed about it for many years, and I'm thrilled we're in our third year. LitHop is intentionally as diverse as can be — all ages, all levels of publication, various genres and subject matter are represented."
LitHop 2018 was originally headlined with "An Evening with Randa Jarrar," at 7 p.m. in the OAB Auditorium at Fresno City College, but Jarrar cancelled, according to LitHop organizers. Another headliner will be announced, but other events will go on as planned, organizers said. 
Featuring numerous other events, LitHop promises to feature diverse talent from all over the valley. Some of these events include:
Hysteria? Women Shattering the Silence on Mental Illness, at 1 p.m. in the Brass Unicorn, featuring Chris Roup, Courtney Lizbeth Potts, Isabel Olivias Heau.

Plastic Pollution Poetry, at 1 p.m. in Cindy's Frozen Yogurt and Desserts. Students from Cooper Academy will present original poetry on the effects of plastic on the environment.

A New Land for Our Ghosts, at 1 p.m. in The Revue. Joseph Rios, Sara Borjas, Alana de Hinojosa and Rocio Carlos will read poetry about memory and death.

Women Who Smell Like Where They Work, at 2 p.m. in Hart's Haven Used Bookstore. Featuring Tara Williams, Christine Weidenbach, Meredith Booey Sandrik, and Bethany Hazen, four of Fresno State's MFA Creative Writing program candidates, will read work addressing class, privilege, and the odors of dirty jobs. Mature audiences only.

Bridging Chaos: Navigating Love in the Hmongscape, at 2 p.m. in The Revue. Nou Her, Andre Yang, Ying Thao, and HAUNTIE will sit on a panel about love through the lens of the Hmong experience. Mature audiences only.

Clock Talk: Stopping to Chat with the Second Hand, at 2 p.m. in the Hi-Top Coffee. Brianne Vogt, Marcello Ayers, Kassandra Gonzalez and Julia Baker will talk making time for writing and poetry.

CWAA Presents: A Blast from the Past, a Fresno State MFA Alumni Reading, at 2 p.m. in the Spectrum Art Gallery. Four writers from Fresno State's MFA program, Nancy Hernandez, Jessica R. Santillan, Ronald Dzerigian, and Juan Luis Guzman, will share their work and what it means to be a writer in the valley. Presented by the Chicano Writers and Artists Association at Fresno State.

Brothers in Arms, at 3 p.m. in the Spectrum Art Gallery. "Four Fresno writers sharing original works about life living in the San Joaquin Valley."

Carrying Ghosts, at 3 p.m. in the Shredworthy. Jamie Moore, Brenda Venezia, Steven Sanchez, and Monique Quintana will do readings about "the ghosts of our ancestors, the ghost of myth, and the ghosts of memory."

Chicanx Gothic, at 4 p.m. in Goldstein's Mortuary & Delicatessen. Patrick Fontes, Nicole Henares, Carribean Fragoza, and Monique Quintana will explore everything from Catholicism to the occult in these multi-genre readings.

Cat Poems and Other Beasts, at 5 p.m. in Goldstein's Mortuary & Delicatessen. Featuring Steven Church, Liz Scheid, Courtney Hughes, and Jacob Kelly.

Tell Me About It: Writing About Memory and Reclamation, at 6 p.m. in The Revue. Lee Herrick, Tim Z. Hernandez, Brynn Saito, and Lisa Lee Herrick will do readings that grapple with culture and trauma, including "a novel about deceased Mexican deportees" and "the nature and aftermath of hidden violence on Hmong refugee families."
"LitHop attendees will hear some of Fresno's finest writers, discover brave new voices, and perhaps be inspired to write something of your own," Herrick says. "Venues fill quickly, so arrive early. Plan your day, soak up as much as you can, and have a good time."

About the Writer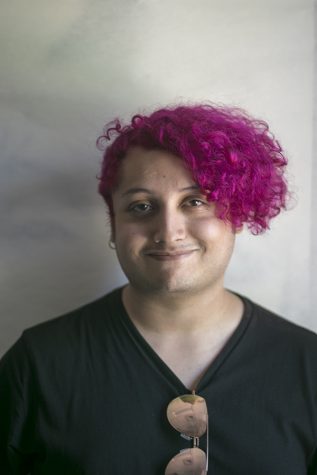 Tommy Tribble, Editor-in-Chief
Tommy Tribble is the 24-year-old editor-in-chief of The Rampage, formerly the opinion editor. Tommy is an English major, a writer, an aspiring novelist, and a Capricorn. He's talented, or whatever, but mostly he's just tired.
Tommy's passion in life is storytelling. He always imagined that passion would take shape as the dragons and swords of fantasy novels, or the androids and supernovas of science fiction. He was shocked to discover that his career at Fresno City College would lead him to fulfill the dream in another way: documenting the lives and experiences of students. Journalism, pure and simple.
Tommy hopes his tenure as EIC will mean a Rampage that is queer, colorful, and welcoming to people of all kinds, especially the marginalized and the forgotten. He wants his legacy to be radical inclusivity.
So basically he's gonna wing it.
He has an orange cat named Sora, and he's working every day to buy him even nicer cat food and toys, and one day an apartment of their own.
You can reach Tommy at [email protected] and on Twitter @tomiiwrites.