Onion Founder Humors Crowd At Fresno City College
Hang on for a minute...we're trying to find some more stories you might like.
Scott Dikkers, a founding editor of the satire news organization The Onion, discussed his career to uproarious laughter in the Old Administration Building at Fresno City College on Feb. 6.
The audience, mostly comprised of FCC students, listened to Dikkers' account of his career in comedy and satire as well as the origins of The Onion.
Dikkers' speech was different than traditional speeches from numerous visiting speakers.
While some past speeches have had elements of humor here and there, Dikkers approached this speech akin to a stand-up comedy performance with a balanced legitimacy in straightforward storytelling.
Through the use of self-deprecating humor, Dikkers recalled his earlier years as an aspiring satirist.
Dikkers cites MAD Magazine as a major inspiration to him and spoke about how humor became an outlet for him.
"If you make the bullies laugh, they wouldn't beat you up," Dikkers said.
Dikkers discussed his early work as a cartoonist in which he earned notoriety for his comic strip, "Jim's Journal," which became a syndicated strip in college newspapers from 1987 to 1997.
He then discussed how he met Tim Keck and Christopher Johnson, who approached him about beginning a satire publication.
This satire publication became The Onion.
The publication received its name from the layers found in an onion as well as the fact that Johnson would eat raw onions on a slice of toasted bread.
Dikkers bought The Onion from Keck and Johnson in 1989 and eventually hired numerous satirists from different areas in life.
With a tinge of sarcasm, Dikkers described his earliest hirees as "bitter" and "hateful" with "no prospects in life." Now, many of them are working as professional writers for comedy shows like "The Daily Show.
Dikkers also discussed how there is a place for satire through numerous mediums.
"Different people prefer to receive information in different ways," Dikkers said. "Some enjoy movies, TV, radio, podcasts, pictures and written work."
Dikkers told the audience that The Onion covered all those bases and nearly put together a stage show in Chicago.
Dikkers concluded his presentation by discussing one's fears when expressing comedy due to the possibility of offending people.
"You can be shocking and offensive, as long as they are laughing."

About the Writer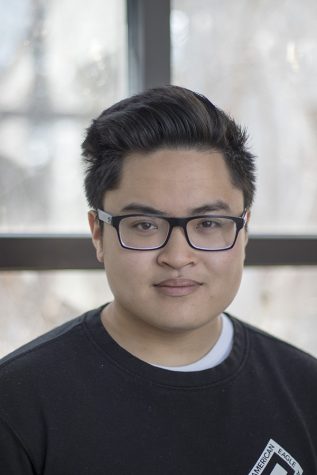 Noah Villaverde, Entertainment Editor
Noah Villaverde is a 21-year-old who currently resides in Fresno, California and is a Mass Communications and Journalism major at Fresno City College....