Students Show Off Mastery in Student Recital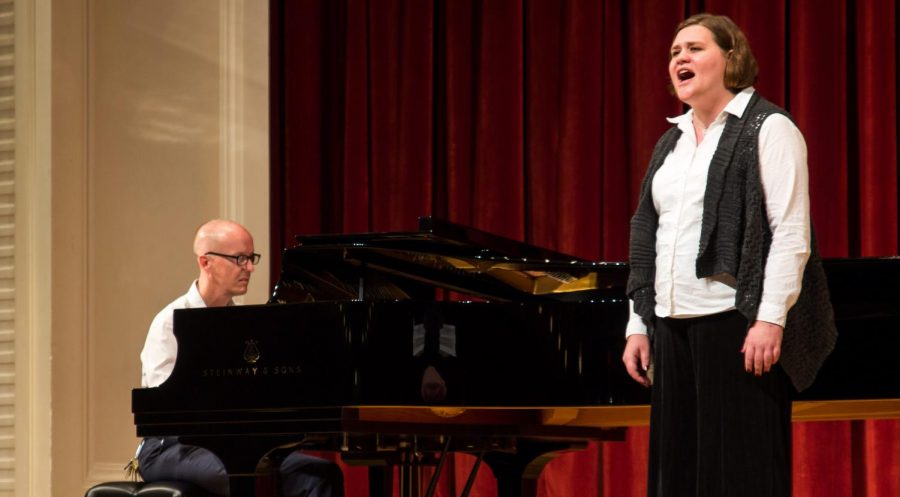 A single light shined on students in the large Old Administration Building Auditorium as they performed renowned and difficult classical works in their first student recital of the fall semester at 7:30 p.m. on Nov. 1.
Accompanied by pianist Aarne Kela, the students performed pieces from the classical era of music. The small audience was treated to many captivating performances that displayed the students' hard work, dedication and skills.
The recitals feature students majoring in music, which requires them to study music privately and perform in concerts, according to Larry Honda, chair of the music department.
Soprano singer Nhi Nguyen opened the night with "Spirate pur, spirate" by Italian composer Stefano Donaudy. She sang the piece in Italian. The rendition was melodious, and Nguyen's performance showcased her training.
Next, Ryan Fromuth played "Prelude Op. 87, No. 4" on the piano. It was slow, somber, but very beautiful and moving.
Mezzo-soprano Gena Chambers performed "Non so piu cosa, cosa faccio" by Wolfgang Amadeus Mozart. The song is from the famed opera, "Le Nozze di Figaro" by Mozart. This song was also sung in Italian.
Pianist, Tanner O'Brien played "Sonatina Op. 36, No. 2" by Muzio Clementi. O'Brien played this upbeat tune in a brisk fashion which is formally known as "Allegretto." The piece sounded advanced which was made apparent by the number of keys being struck and the swiftness of the music.
O'Brien said that preparing for this performance was hard and took a lot of time and effort. He said he spent the whole summer practicing this piece.
"I was pretty nervous, but I got through it," O'Brien said. "I felt enjoyment."
Mia Alvarez, a mezzo-soprano singer, then sang "Von ewiger Liebe" by Johannes Brahms. She sang in German in a very energetic performance.
Pianist Jennice Bourdase played "Sonata in C Major, Hob. XVI/50" by Franz Joseph Haydn. It was a long, complex and upbeat piece with varying rhythms. Her performance evoked a finger-tapping sensation.
The final performer was soprano Bernadette LaMontagne-Schneck who sang "Tendrement" by Erik Satie. She sang the song in French and performed well, but said it required a lot of practice because memorizing other languages can be challenging.
"I've been learning this song since the beginning of September to get it where it is right now," she said.
LaMontagne-Schneck said that attending recitals can be a new experience for those not used to certain music, and she hopes students who attend recitals have fun.
"Other students should come because they can see their peers and what they're doing," Honda said. "A lot of them don't realize that their friends or people that they see in other classes have these talents."