Dolores Huerta Shakes Hands, Says Hello and Drops Some Knowledge at Maya Cinemas
Story By: Marco Rosas, Entertainment Editor
September 26, 2017
Civil rights activist Dolores Huerta was present for the premiere screening of her documentary film "Dolores" on Monday Sept. 25 at Maya Cinemas in Fresno.
The event was a part of Huerta's ongoing tour promoting the film and the Dolores Huerta Foundation, and Fresno was just one of the many busy stops on Huerta's tour.
Huerta, who is known for her work alongside César Chavez, made sure to shake hands, say hello and take a picture with every single person who lined up to speak to her.
After greeting people through the night, Huerta was able to speak a bit about the film as well as its impact and significance in relation to the current political climate.
"It was very emotional, the first time I saw it," Huerta, 87, said. "I had to see it three or four times before I could even grasp the many messages of the film."
One of the film's recurring themes is Huerta's struggle, including police force used against her, the establishment opposing her and the sacrifices she was forced to make for the cause she believed in.
"I hope people will get the inspiration," Huerta said, "when they see what the farm workers were able to do to beat the president of the United States."
Huerta compared her protests and struggles to those of NFL players protesting the national anthem for the lives taken by police.
"If you are a true patriot then you're supposed to point out what's wrong with your country to make it better," Huerta said.
Huerta even suggested that the players should be praised for their efforts.
"It takes a protest to bring attention to racial wrongdoings that are going on and have been going on in our country," Huerta said.
Huerta was asked if she thought college players protesting the anthem would be a good idea, and she responded with an emphatic, "that would be awesome!"
She also proposed further action by the entire school if students were to be benched or kicked off the team,"If they do that, the entire school should do a walk out."
Huerta continues to be a voice in the activism community, and the film which highlights her trials and tribulations as well as her accomplishments is now in theaters for audiences to experience the story of a civil rights figure.  
About the Contributor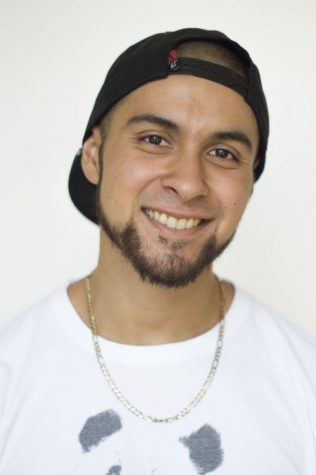 Marco Rosas, A&E Editor
Marco Rosas is a 21 year old Communications Major and third year student at Fresno City College. He is serving as the Fall 2017 Entertainment Editor for...