Luke Bryan Brings Party to Savemart Center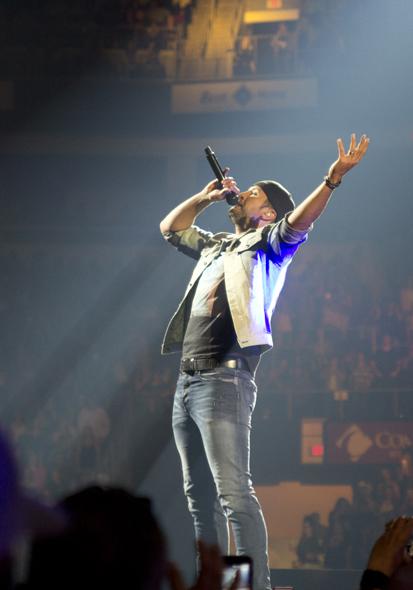 Story By: David Chavez, Managing Editor/Copy Chief
May 3, 2016
CMA Entertainer of the Year, Luke Bryan, brought the "Kill The Lights" Tour to Fresno on April 30, 2016 and turned the Save Mart Center into a party.
The award-winning country music artist brought along with him the 2014 American Country Music Top New Artist of the Year Dustin Lynch and Grammy Award-winning Best Country Duo/Group Little Big Town.
Lynch opened the night and did a great job of warming up the crowd for the rest of the show. Little by little, people started to file in and fill up the arena. The stage was set up in a unique way that allowed the artists to engage with the crowd, creating a more interactive experience for the fans. Lynch's 30-minute set featured his hit-single "Cowboys and Angels" which had everyone singing along.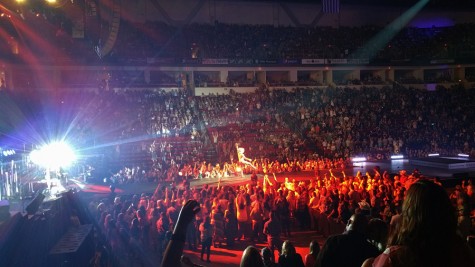 "Thank you for changing our lives with that one," Lynch told the enthusiastic crowd.
Little Big Town came to the stage next and at this point the whole arena was packed. Little Big Town walked to together as a group to the front of the stage and started off their set with acapella versions of Dolly Parton's "Jolene" and Prince's "When Doves Cry".
"Fresno, you people are ready to party," singer Karen Fairchild told the crowd.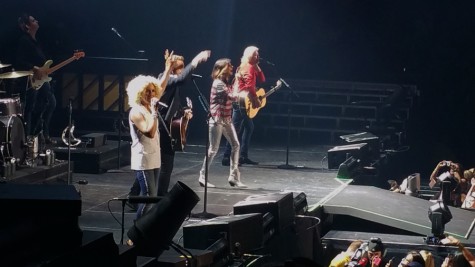 Little Big Town have some Fresno ties, Jimi Westbrook, guitarist and singer, lived in the valley some time back.
With their perfect harmonies, they were able to keep the crowd buzzing giving the concert a more traditional country feel with songs like "Pontoon", "Tornado" and their award-winning song "Girl Crush". https://www.youtube.com/watch?v=F-3VB6nuP-s
The continuously building anticipation throughout the night was finally met with roars and screams from the sellout crowd as the 'famous hipshaker' finally appeared before the thousands in attendance.
Bryan started off with "Rain is a Good Thing", followed by the title-track of the tour "Kill the Lights". The female attendees went wild every time Bryan shook his hips and Bryan was like a conductor as he led the fans in dancing and singing throughout the show.
Bryan played hits like "Crash My Party", "All My Friends Say" and "Roller Coaster".
Bryan gave shout outs to his opening acts and then did a quick cover of Little Big Town's "Girl Crush" and Lynch's song "Where It's At".
Forty minutes into the set, Little Big Town joined Bryan on the stage and together they covered Ed Sheeran's "Thinking Out Loud" and Marvin Gaye's "Let's Get It On". https://www.youtube.com/watch?v=X7DRTbq3wxk
After that, Lynch then joined Bryan and gave the night a more party/kickback feel as they both caught beers that were thrown at them. They sang and drank together providing the fans an opportunity to join in on the fun as it felt like one huge party.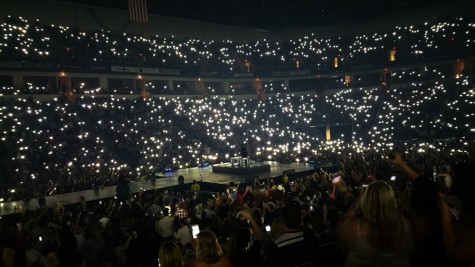 Bryan ended his set with "That's My Kind of Night" and as he walked off stage, chants of "Luke!  "Luke! Luke!" started to be heard.
Bryan came back out to the stage and played three more songs capped off with a cover of The Weeknd's "I Can't Feel My Face".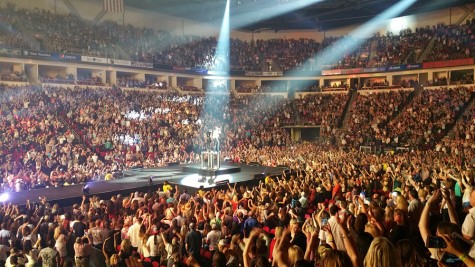 Victoria Castañeda has been a fan of Bryan for a couple of years but this past year is when she really became a huge fan because of her sister.
"The first [Luke Bryan] concert I went to was in October 2015. It was literally out in the middle of nowhere in Watsonville, but it gave such a country vibe," Castañeda said. "Both concerts, he gave a good show. I love hearing him sing my favorite songs."
The unique stage setup, loud music,hip shaking, and light show created the perfect environment for all country music lovers.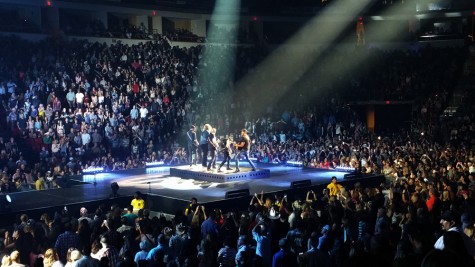 "My favorite part was when Dustin Lynch sang 'Cowboys and Angels'," Castañeda added. "Also when Luke Bryan sang 'Play It Again' and 'Strip It Down'."
About the Contributor
David Chavez, Reporter
David Chavez is 25 and is in his sixth semester taking classes at Fresno City College. He is a journalism student and he plans to finish with a bachelor's...