The lively crowd sat in anticipation as the first Fresno City College Rams Women's Basketball game of the season took place on Nov. 1. Shoes screeched across the gym floor as they dribbled the ball up and down the court constantly battling with Modesto City College Pirates. Rams won with a final score 106-61. 
The crowd started out chatty, but as after the Rams scored their first basket in the first quarter, they sat in suspense and would abruptly cheer in excitement as their team scored. The noise of the announcer was beat by the joy of the crowd.
By the end of the first quarter Rams were up 19-10.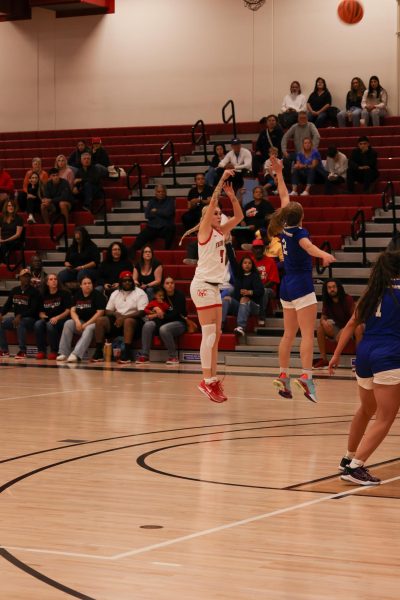 The game was a constant back and forth and at half time the Rams were beating the Pirates 60-28. Each time a team member would score, the crowd would roar in excitement. "Oohs" and "Ahs" echoed through the gym to celebrate the girls' hard work. Some members of the crowd would even stand or dance after they scored. 
Corin Camara, No. 5, came off the bench and had 57% accuracy when shooting the ball and had the most points at the end of the night with 23 points, taking care of the offense. 
Another Ram stood up to the challenge; Aleyah Higa, No. 22, had a defensive showing grabbing 13 rebounds and a steal. 
After the first 10 points scored by Rams, the Pirate's coach kept pestering the referees, constantly asking, "Wasn't that a foul?"
Half way through the third quarter Rams fought hard and played tough defense. They were able to gain 28 points, putting them 88-48. 
Even though it was the last quarter, the crowd didn't die down. Their excitement grew knowing their team won. 
According to the FCC Athletics page, Rams got 50 rebounds compared to Pirates who got 28. The Rams also had 24 assists compared to Pirates' seven assists.
The next home game is Nov. 9 against Cypress Community College. 
Story continues below advertisement