Face Coverings Lifted and Concern for the High Risk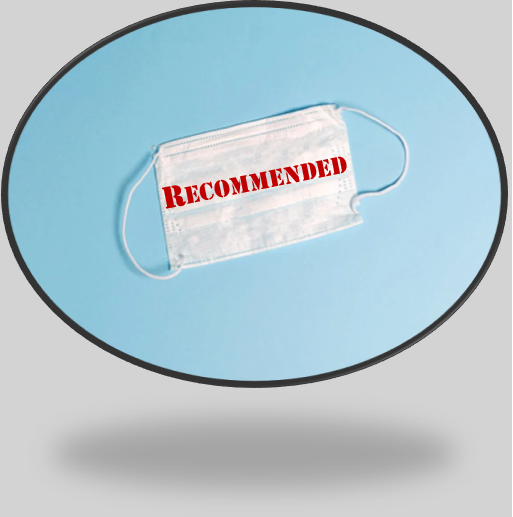 It has been just over a month since face coverings for Fresno City College campus became strongly recommended on March 21. 
As an immunocompromised student attending in-person classes I'm concerned about an increase in COVID-19 with the new variant creeping in closer.
According to the Fresno County COVID-19 Data Dashboard as of April 30, the county's numbers showed an average of 57 cases per week.
The mask mandate was lifted for FCC on March 21, and effective immediately on April 18, California Department of Public Health(CDPH) requirement for masking on public transit and in transportation hubs was terminated.
However, the California Department of Public Health (CDPH) strongly recommends that individuals in these settings continue to wear a mask.
Is it a good idea to keep masks lifted for students on campus, knowing so many students rely on public transportation to get them to and from campus? 
Although I double up on masks, I would feel safer if all the campus faculty and students wore masks, taking into consideration masks are lifted for most setting areas.  
Sure masks are a choice, but how would you feel if a classmate showed up with a cough to class and no mask, because they didn't believe in the virus or approved of facial coverings? Two to five days later you start sneezing and have to go get those uncomfortable nose swabs. By then chances are you have already passed it on to your close contacts.
People who are immunocompromised have a more difficult time fighting off even simple infections and viruses like the flu, not to mention complex respiratory issues such as COVID-19.
Many conditions can lead to a person becoming immunocompromised, including conditions like cancer, AIDS, diabetes and many more. 
In August of 2005 I received a kidney transplant and have been on multiple immunosuppressants since the transplant.
Why do I find this concerning more than others? I was someone who caught the influenza virus and nearly died from the flu. It has since increased my fear of contracting any illness, especially COVID-19.
In an email to The Rampage, Deputy Health Officer Dr. Trinidad Solis of Fresno County Department of Public Health(FCDPH) states that Infection numbers are relatively low in Fresno County, with 2.8 COVID-19 cases per 100,000 as of April 8.
According to Dr. Solis there are currently fewer COVID-19 related hospitalizations, in comparison to January 28 with 612 hospitalized patients.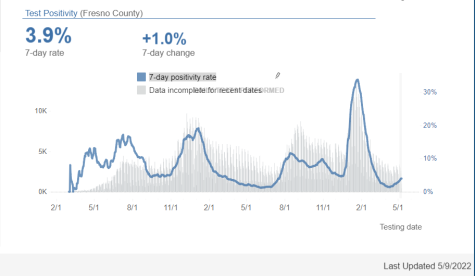 In the email Dr. Solis said the FCDPH is closely monitoring the Omicron subvariant, BA.2, which is highly contagious and now the dominant variant in the US. The XE is another variant that scientists throughout the world are closely studying and currently gathering more evidence about its transmissibility and severity.
"I am concerned that there may be an increase in COVID-19 cases following spring break given that more people are likely traveling and having large gatherings during this time," she said.  
Dr. Solis says, "In order to keep infections down, the Fresno County Department of Public Health (FCDPH) encourages individuals to get vaccinated and boosted if eligible, stay home and get tested if you have COVID-19 symptoms, and wear face masks in high risk situations."
Given the current low COVID-19 case counts, a mask mandate is not currently needed, but masks are highly recommended in high risk situations like crowded indoor settings. 
The FCDPH is preparing for any possible future COVID-19 surges and will continue to follow the California Department of Public Health's masking guidelines if and when future COVID-19 surges occur.
In addition to COVID-19 precautions, individuals who travel are also recommended to get tested three to five days after returning.
FCC Public Information Officer Kathy Bonilla said the health and safety of the campus community continues to be their top priority and will continue to monitor cases and work closely with the county public health department.  
"Our [FCC] vaccination requirements are still in place as well as the two per week testing requirement for those who are not vaccinated," Bonilla said. "We also encourage those who are immunocompromised to work closely with their health care provider and follow their recommendations." 
FCC will continue to implement contact tracing, sanitizing, and enforcing its vaccine mandate and testing requirements and make any changes in procedures accordingly.
"We ask everyone to remain diligent in preventing the spread of COVID-19," Bonilla said.
The most recent update on May 6, from FCPHD is now showing an increase in positive cases by 588 in the last week.
Although the hospitalizations have decreased for COVID-19, it's starting to look like influenza is  increasing according to the Fresno County influenza data.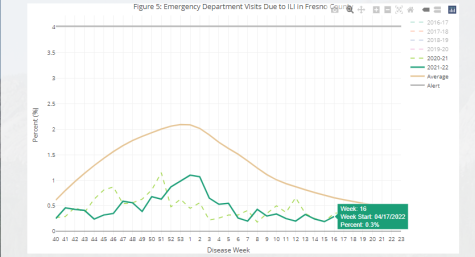 In comparison to the weekly influenza statistics on the county's site from 2020 to 2021 there were zero deaths and in 2021 to 2022 there was one reported.
When I had the courage to reduce my mask wearing around mid April, I caught a viral infection better known as the common cold.
Being sick for over two week, with hearing loss in my left ear that has not returned is no joke. 
I will continue wearing my mask for the protection of myself and others who are high risk until I see how the tracing of the COVID-19 and influenza are doing for the summer.