Mask Mandate Changes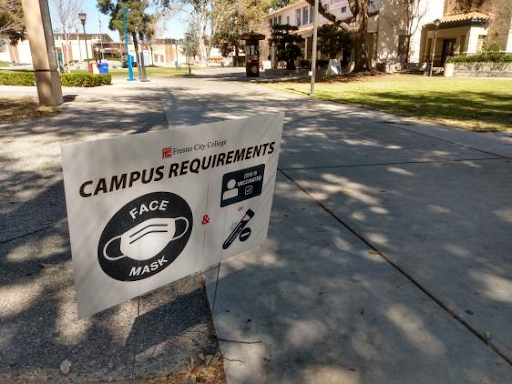 State Center Community College District sent out an email about the decline in COVID-19 cases and hospitalization and stating that masks will not be a requirement but 'strongly recommended' effective on March 21.
The vaccination mandate is still in effect and those exempted must be tested twice a week.
Some Fresno City College students feel as if the mask mandate is 'too early' to be lifted and should stay in place.
"It feels premature and we worked very hard over the last two years to get to this point. It feels like we're jumping the gun to take off masks," said Adeline Hollingsorth, undecided major.
Tracy Young, a nursing major said, "It's a bit too early for the mandate to be lifted. I'm still wearing a mask."
Other FCC students feel that since they are vaccinated or have a booster shot, they will be safe from COVID-19. Few students have said that they 'really don't care.'
Diana Gonzalez, Civil E. major said,"I don't really care, that's them. If they die, they die and if I don't, I don't."
Many were concerned about their health and people around them. Some expressed how they wished people would think of the health of others and the immunocompromised. There is also a worry COVID-19 cases might rise if people choose to leave masks off.
"I'm just waiting for numbers to spike," said Esa Martinez, undecided major.