Drought: What's next for CA?
The impact of  President Barack Obama's visit to the Valley
With the changes some valley cities like Orange Cove, Tulare and Visalia are beginning to make during this historic drought, the federal government has offered to step in and help the drought-stricken communities and its residents.
"We're all equally dependent upon California producers for so many of your products in your lives," said President Barack Obama during his visit to Fresno on Feb. 14, 2014.
According to the Office of the Press Secretary, at least $3 million is being made available by the U.S. Department of Agriculture to assist rural communities experiencing a significant decline in the "quantity or quality" of drinking water.
These funds will be provided to eligible, qualified communities by application through USDA-Rural Development's Emergency Community Water Assistance Grants.
Another $60 million has been made available to food banks in the State of California to help families that may be economically impacted by the drought. The U.S. Department of Agriculture is providing help to food banks through The Emergency Food Assistance Program.
Although the president's visit was brief, he emphasized that his administration would stay on top of the issue that California is facing.
"We are going to stay on top of this," said President Obama, "because it has national implications not only for our economy but we're also going to have to make sure that we weave in this issue of water in the West with the broader issues of climate change."
Along with making funds available for the state, the president has directed federal facilities in California to take steps to immediately curb water use. This includes a moratorium on water usage for new, non-essential landscaping projects and to redouble efforts to fulfill prior commitments to longer-term water use reduction at Federal Facilities.
Efforts are currently underway to improve water use efficiency for drinking water at federal facilities across the country by 26 percent and improve water use efficiency for industrial, landscaping and agricultural water by 20 percent.
The administration is already ahead of schedule towards meeting these goals according to the Office of the Press Secretary.
The president also suggested that we rethink our infrastructure and determine what projects would make people 50 years from now, 100 years from now, able to say we had the foresight to deal with these problems in a serious way.
Glen Foth, who works for State Center Community College District as the District Operations Manager, believes that Fresno City College is on the right track and well in response to the president's suggestions  with a new computerized system that is helping the college reduce its water use.
"This is the direction that we see we need to go," said Foth, "this is the direction that we need to see others go."
District Operations is currently using a computerized irrigation system called Rain Bird. That system is connected to rain clocks that help determine when the grounds need to be watered and the data comes from a weather station at Willow International according to Foth.
Depending on the amount of water that grounds may get from any rainfall, the automatic rain clocks determine how much water can be used. The computerized system requires little attention.
Foth claims that using such irrigation systems reduces water use at a much higher rate and allows for more efficient use of the water during the current drought conditions.
The water that the college uses is not underground water which is what most of the city uses, so Foth says it is not likely that the college will have to follow regulations imposed by the city.
The college is considered to be a "large size exception" according to Foth. It is allowed to water every day but Mondays due to its exception, but Foth says the campus will still see efficient water usage and quick responses to any broken or damaged sprinklers.
According to Foth, what District Operations seeks to achieve with the computerized irrigation system is to use water in the most efficient way that they can so over-watering isn't a problem.
The new system is currently being used in the Old Administration Building area, the west lawn and the underpass area.
Only 25 percent of FCC is currently running under the computerized irrigation system. The rest of the campus is on the manual system which requires weekly adjustments by District Operations personnel.
Foth emphasized on checking the clocks on a regular basis, being diligent on monitoring water use, checking what's broken and making repairs quickly. Despite any further implications, Foth says he will not consider letting the grounds go dry.
He argues that the campus grounds are the livelihood of the college and the excellent condition of the grounds were mentioned in the last four accreditations.
"What we are making a conscious effort of is to go back and tweak and cut back more than what we have and we are heading in that direction to reduce our water use," he said. "But to totally stop watering here, no, not in my lands."
About the Writer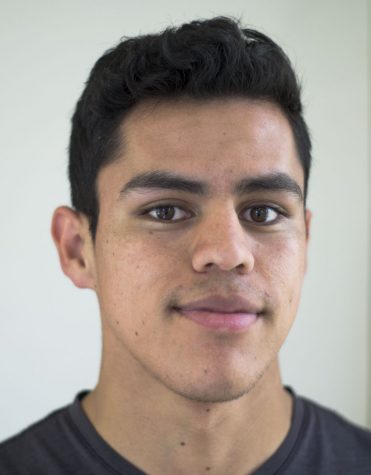 Cresencio Rodriguez, Editor-in-Chief
Cresencio Rodriguez-Delgado has led the Rampage for four semesters as the Editor in Chief. Cresencio joined the Rampage on January 12, 2014 and has reported...