When the sun sets on the Fresno City College campus, darkness descends like fog. The few people walking around are either headed to night classes or going home.
The atmosphere is quiet, still and a little eerie.
Because most services and buildings close around 5 p.m., students in night classes have little to no places to relax while waiting for their class.
Criminology major Felix Torres took his first night class this semester. Although he would prefer earlier classes, he likes how the environment feels at night.
"It's kinda like taking a night walk, like a stroll in the neighborhood, you are just kind of in your own personal bubble," Torres said.
Torres takes classes in the morning, so he knows how busy the campus can be compared to at 9:30 p.m. when he is usually out of his night class.
Like other night students, Torres goes home as soon as he gets out of class. Although it wouldn't bother him if some on-campus services were open later, he also understands that FCC can only do so much.
"That's for the school to discuss whether they want to leave that open later for students, but then again, I do know that the workers here also have lives and they cannot be here 24/7," Torres said.
First year student and physics major Matthew Her didn't have a choice in whether he wanted to take a night class or not. Photography 5 was picked for him.
"I was supposed to have some other class, but they just gave me that," Her said.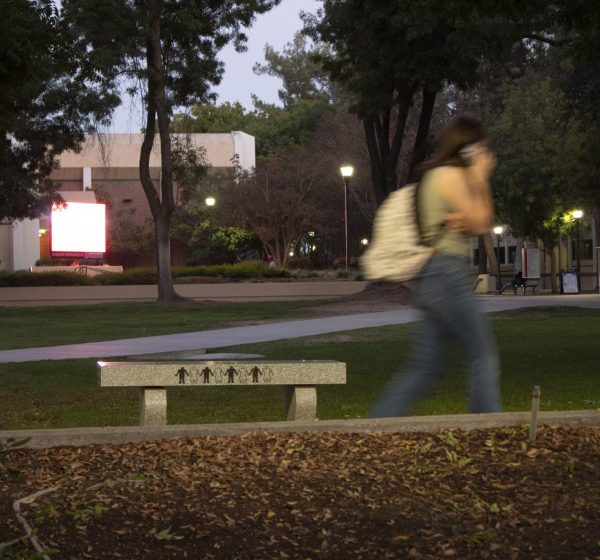 Although Her didn't care at first about having to take the class in the evening, when he registered for classes in the spring, he will probably not go for a night one again.
He wouldn't want to take classes that require more hands-on attention like a math class in the evening or in the morning. If he were to take a night class again, it would just depend on the subject.
"If I have to then yeah, I probably will, but it wouldn't be my first choice," Her said.
He also agrees it can be calming at night, especially with the lack of traffic in the evening. It doesn't mean he is completely comfortable.
"It can be a little sketchy, when I'm walking to my car, I just look around a lot more than I used to do," Her said.
Nursing major Danae Martinez works full time at a medical office so she can only take two night classes, one at FCC and the other at Clovis Community College.
Even though this is Martinez's second year at FCC, she isn't used to not being able to see her family. Her son plays volleyball at his high school and she isn't able to see him practice.
"I don't get to see him at night time either, I'm going to class Monday through Thursday. The only days I see him are Friday, Saturday and Sunday," Martinez said.
Martinez wouldn't mind if services extended for a later time, but for her it wouldn't be necessary.
Story continues below advertisement