A few students at Fresno City College feel that mental health resources aren't easily accessible on campus, so they created Harmony Minds Collective Club (HMCC).
"When I first came here, I found that I didn't have a safe space on campus to discuss these issues," Rose Adkins, the founder and president of HMCC said.
Students can visit psychology service's website for more information or to "start a conversation," according to Michael Reda, a Clinical Postdoctoral Fellow at Fresno City College.
There are resources for students at the kiosks and there are QR codes around campus, there is also a table located outside of the psychology room. However, students still struggle to access mental health resources.
"There are a lot of resources out there, but it's hard to get them all in one place, you have to ask a lot of different people," Adkins said.
FCC's Psychological Services offers group counseling, individual counseling, assessments for ADHD and couples therapy given that both participants are enrolled.
Reda encourages group therapy, as some students may struggle reaching out to professionals.
"I love that there is a student-run group that is coming together in order to just be their own support when they are finding support from the various systems within the college," Reda said.
The club helps by having a safe space for students to share experiences and those who are struggling to reach out.
According to Reda, psychological services offer different services each semester depending on the theme of struggles that students are facing and try their best to implement new programs to help those students.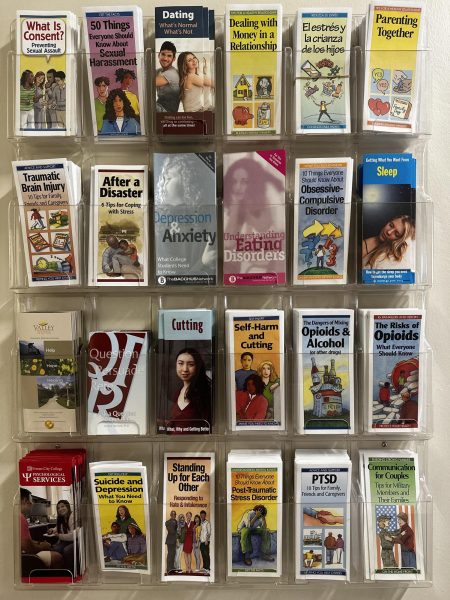 Reda noticed this semester's themes are students struggling to balance having classes on both campuses, enrollment numbers climbing and classrooms being full for the first time since COVID-19.
Since Adkins wants to be a foundation for students, she would like to be a support system for students wanting to join.
"I kinda want to be a resource directory to all the different resources, including the ones we provide," Adkins said.
For students who need help and can't access the psychologists on campus, they are sent to W. Gary Cannon Psychological Service Center, where they can get 10 free sessions of therapy.
For students who are suffering from a crisis experience, students will hear back from someone in the psychology department within 24 hours, according to Reda.
This semester, the psychology department has started group therapy sessions: Asian and American, process group, anxiety toolbox, LGBTQ+ support group and compassion group. All group sessions will be located in SC-216. For more information call 559.443.8687.
All club sessions will be on Thursdays from 4 p.m to 5 p.m in SS-110.
Story continues below advertisement