Woman, Life and Freedom Honored at Fresno City College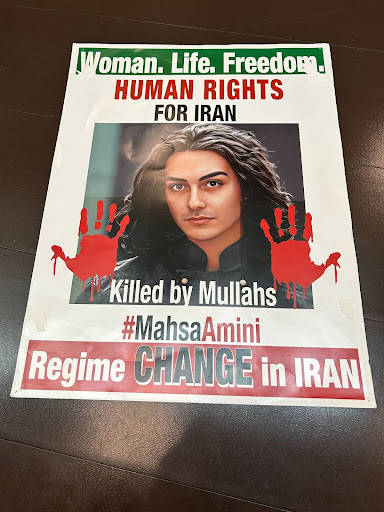 Large photographs of those who have lost their lives circled the room. Survivors' faces were swollen and disfigured from being beaten. 
Music native to Iran played while the crowd gathered for the Woman, Life, Freedom event that was held in the Old Administration Building, at Fresno City College on March 23, in honor of Women's History Month.
Fresno Mayor Jerry Dyer shook hands as people snapped photos with cell phones. Dyer was to speak in support of Woman, Life, Freedom.
The FCC event was held in support of the Iranian Women's Movement and the fight against oppression in Iran and Afghanistan.
Dyer said that what is occurring in Iran is about human rights, human dignity, women's rights, and freedom at the hands of an oppressive government.
Pouria Nouri was one of many from the Fresno Iranian American community who attended the gathering to show their support. 
"We're just trying to shed light on all the atrocities committed by the dictatorship in Iran and the lack of freedom," Nouri said.
Nouri explained that the Iranians who are protesting against the Islamic Republic are facing military confrontation and being killed in the streets. The deaths range from young kids to adults.  He said the Islamic regime doesn't discriminate and they aren't given a venue to peacefully state their grievances.
Woman, Life, Freedom first started back in 1980 when Iranian women started protesting against the strict dress code that was implemented by the Islamic Republic. 
Recently, the movement was triggered by the death of Mahsa Jina Amina who was killed by the morality police for not properly wearing her hijab. 
"She's certainly not alone, there's been many, but she has become the symbol for the movement," Nouri said. 
Fresno Council Member Mike Karbassi pointed to a picture of a woman missing an eye. "They shoot rubber bullets at peaceful protestors, and aim for their eyes because they want to send a message of fear," Karbassi said.
State Center Community College District President Nasreen Johnson, who is an Iranian American, said that when the Woman, Life, Freedom resolution came across her desk she found it poignant. 
"It was something that was a little unanticipated for Women's History Month, and extra special to me," Johnson said.
The organizers of Woman, Life, Freedom at FCC, chose not to have their identities disclosed for security reasons.