Fresno City College's First Ever High School Mariachi Festival Was A Cultural Celebration To Remember.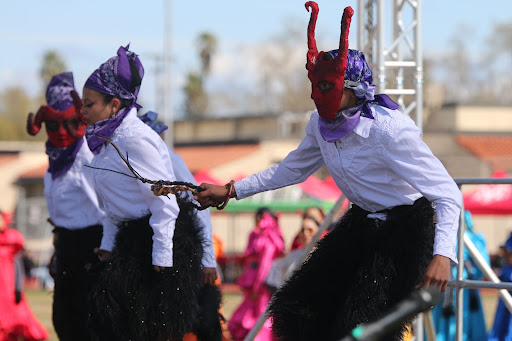 Fresno City College's inaugural High School Mariachi Festival was the first of its kind in creating a Hispanic celebration of culture with the valley's high schools competing in a mariachi competition at the Ratcliffe Stadium on March 25.
Student mariachi groups from McLane, Roosevelt, Woodlake, Delhi, Orosi and Kerman High School, all competed in this competition.
With the first place prize of $1,500, second place prize of $1,000, and third place prize of $500 with the prize money going back to the winning high school's groups.
Roosevelt High School Mariachi group won first place. Coming in second was Mariachi Gavilan of Delhi High School, and Mariachi Leon of Kerman High School winning third place.
Jesus Plascencia, director of Mariachi Leon of Kerman High School, when first hearing about the festival was excited to attend and bring his school to compete.
"Mariachi is not that big in California. In terms of Texas, Arizona, New Mexico, mariachi is huge over there," Placensia said. "Finally something is going on that is going to be able to showcase all the high schools that have mariachi programs here." 
The festival began with folklórico performances from various schools, and Fresno City College's own folkórico group. 
Central East High School students Starla Sanchez, Joseph Romero Villa, and Jorge Alvarez who performed during the event reflected on their performance as the folklórico group, Danzantes de Tláloc.
"I was very proud of our dance," Sanchez said, "I think we did really good, despite all of the mistakes."
Creator and director of Grupo Folklórico Tangu Yuu, Hugo Martinez, was thrilled to coordinate the folklórico performances of the event and says this is the beginning of new events to come.
"Students see and they get the feeling of how [they] found a close community that they can rely on," Martinez said. "That they can go on and perform proudly for them."
The event would have not happened without the direction of Fresno City College's Senior Program Specialist, Maile Martin, and Arnulfo Lara from Estrella TV. 
"If I can see the event I can make it happen," Martin said. "I like the authenticity of cultural events because there's so much pride, there's so much tradition."
From gaining sponsorships to inviting as many people as she can, she was happy to coordinate this event and the end result.
"Everybody had a good experience. They understood what was happening. I thought the students did a great job, I was just so proud of them," Martin said.
Fresno Mayor Jerry Dyer also attended the festival for the opening performances, and welcomed the attendees.
"I think it is important that we celebrate our diversity in Fresno," Dyer said. "Which includes mariachi, folklórico, and Mexican Food." 
In May, Martin will host a meeting about bringing the festival for next year.
Fresno City College's next cultural event is Asian Fest 2023, on Apr. 29, and will take place campus wide.