The African American Faculty & Staff Association Celebrates Black Excellence at Fresno City College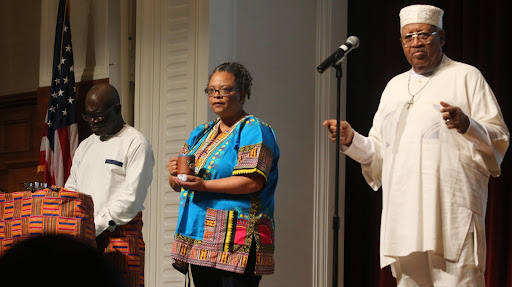 This year's Fresno City College's African American Faculty & Staff Association's (AAFSA) Black History Month opening ceremony showcased black excellence through cultural performances, achievements, and singing at the OAB Auditorium on Feb. 01.
During the event, FCC Faculty members Auguste Kouadio and Karla Kirk, along with retired professor Kehinde Solwazi, conducted a traditional African libation ritual.
Before the libation, Kouadio taught the audience a word for affirmation in his native tongue. "We're going to do that again. Asé?" Kouadio said.
"Asé!" The audience said back. 
Kouadio performed the drums as Kirk was holding a cultural relic and during the drumming beat, at times, Solwazi and the audience would chant "asé!"
"We know we spend a lot of time talking about America, Black History Month.. But when I do libations, we have to go back to the beginning.. We are African people and we are the beginning." Solwazi states.
Amongst the ceremony, Christian David, an FCC graduate, was up on stage proud to sing the Black National Anthem. 
David was challenged as the instrumental of the anthem did not play due to technical difficulties. David took the initiative and began singing without it, which brought the audience up from their seats to sing along.
The keynote speaker present this year was Dr. Robert Mitchell, California State University of Fresno (CSUF) Medical Services Director, who presented his blueprint to a student's success as a remote control, and how each letter in the word "remote" meant something important.
To Dr. Mitchell, the letter M, in remote, meant mentoring. To which he presented two acclaimed African American physicians, Dr. Fiztelbert Marius and Dr. Noel Smith. 
"Dr. Noel Smith.. A lot of people don't know he's the first resident OB/GYN [doctor] in Fresno. So when we talk about Black history, we want to give him all that is due." Dr Mitchell said.
The ceremony concluded with a closing prayer by Senior Pastor Reverend David J. Criner, of St. Rest Baptist Church, as he asked everyone to bow their heads and pray in respect of African-American culture and history.
Throughout the rest of the month, the AAFSA will host events from performing arts to educational panels in honor of Black History Month.
For more information, visit Black History Month | Fresno City College.