FCC's West Fresno Campus Construction Update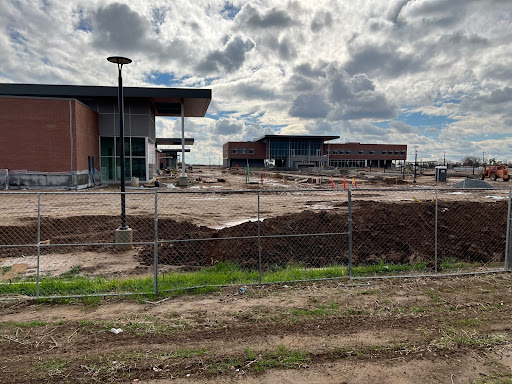 The new Fresno City College West Fresno Campus will bring new educational and economic opportunities to the underserved and marginalized communities of Southwest Fresno.
The 40 acre campus will be California's largest state- of- the- art automotive training facility, according to FCC's President Robert Pimentel.
In addition to its automotive emphasis, it will also offer general education classes like English, philosophy, and nursing programs.
Instead of FCC's iconic red logo, the West Fresno cCampus will be sporting a new green logo to represent its low carbon footprint and its efforts to reduce pollution in an area where environmental concerns are high.
Community members are happy to see that Fresno is investing in the future of an otherwise historically neglected part of the city.
"When you are sick you need a doctor, you don't not go to the doctor because you are too sick, so if the community has been underinvested the solution is to invest to make things equitable and this a good start," longtime community member Dr. Venice Curry said.
The $86.5 million project funded by Measure C and E began with a budget of $10 million in 2018, but COVID-19 and restrictions from outside companies like PG&E have caused delays to its opening.
"We would like to begin enrollment by spring of 2023 and be fully operational by fall of 2023," Pimentel said.
The goal is to train students so that they can receive high paying jobs right after college, Pimentel revealed during a presentation at a community event.
The average salary of an automotive technician ranges from $41,981 to $56,123, according to Pimentel.
FCC will be relocating its automotive courses to the new campus leaving behind several empty buildings.
Pimentel said there is still a discussion as to what will fill the empty buildings, but also mentioned the possibility of the Associated Student Government having a say as to what will go in those buildings.
The West Fresno Campus also means new equipment and more space for its automotive students currently at FCC.
Students like Erick Olvera, an automotive technology major at FCC, say they are excited to have more room.
"It's been stressful, we're crowded, sometimes we have no rooms to bring in vehicles," said Olvera. 
Pimentel hopes by bringing education to that side of Fresno, it will revitalize the communities around it, as well as having la vibrant, full campus of students from the area. 
"We looked forward to students at this middle school, Rutherford B. Gaston Middle School, looking across the street and seeing the possibilities," Curry said.