FCC Professor Pushes to Establish an AA in ASL and English Interpreting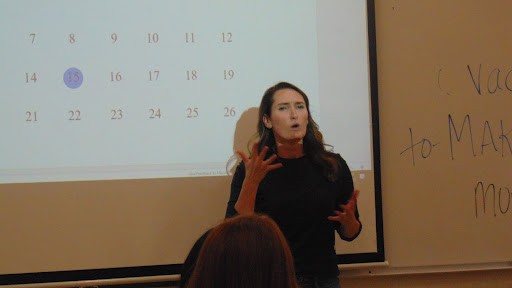 Fresno City College established an Associate of Arts in American Sign Language and English Interpreting beginning in fall 2023 thanks to American Sign Language Instructor, Amy Strobel. 
FCC has had a Certificate of Achievement in Sign Language Interpreting for 10 years. 
Due to changes in the interpreting field and the requirements to become certified, Strobel felt motivated to initiate something beneficial for both students and the college. 
She knew this establishment would allow students to transfer to Fresno State, where there is a Bachelor of Arts in Interpreting and could benefit students since most take ASL for the first time in college and need time to learn the language and interpreting principles, which takes a while.
"It can take anywhere from two to five years to become fluent in a language," Strobel said. "Since most students nowadays learn ASL for the first time in college, it is a huge challenge for them to become fluent quickly as they typically only spend one or two days in class a week for 18 weeks." 
As nice as establishing an Associate of Arts sounds, it takes a lot of time.
Strobel had to write two justifications for their Program Review Committee, one to eliminate the previous certificate and the other for the new degree. After the proposal, the degree was approved in 2021. 
She then waited to propose the degree to FCC's Curriculum Review Committee which was approved in September 2022. 
The College of the Sequoias, there are several outcomes from pursuing this degree such as using ASL effectively and fluently, demonstrating proficiency in receptive skills when signing, and familiarity with Deaf culture and the ability to articulate its basic history. 
Career opportunities from an AA in ASL and English Interpreting are classroom aids, Deaf student aid, advocacy for Deaf culture and entry-level interpreting. 
Not only is the program teaching students ASL and its history but it is also providing them with a set of skills. 
According to American River College, an ASL and English Interpreting program has an emphasis on the ability to apply knowledge in areas like interpreting skills, language skills, professionalism and human relations.