ASG Hosts a Voters Registration Drive at FCC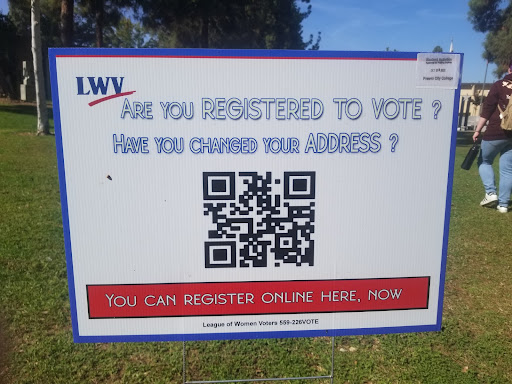 The Voter Registration Drive is an event set up by the Associated Student Government at Fresno City College that is meant to remind students of the importance of voting.
The Drive will be set up on campus on Tuesday, Oct. 18 from 10 a.m. to 12 p.m., Wednesday, Oct. 19 from 2 p.m. to 4 p.m., and Monday, Oct. 24 from 2 p.m. to 4 p.m.
The event is located near the Library on Tuesday and in University Square on Monday and Wednesday.
The Voter Registration Drive was organized by Nick Hernandez, a political science instructor at FCC, with the help of ASG.
Taran Booker, senator for ASG and manager of the drive, believes that voting is extremely important for students to learn about and get involved in.
It is a drive hosted for the sake of influencing students to take part in registering to vote.
"I think voting is the first step to at least feel like you're doing something and know that [you've] done your part," Booker said.
Booker feels that fewer people are taking action in making change through voting and commenting on everything with no action.
"Voting is similar to getting a college education. Getting a college education doesn't guarantee you'll be successful just like a vote doesn't guarantee it's going to make a difference but you know that you've done your part," Booker said.
The Importance of Voting
Booker feels that the importance of voting among young adults isn't as prevalent as it should be.
"We spend so much time thinking that we won't be able to have an impact and then when it's time to have an impact, we don't step up to the plate to even do that part," Booker said.
Booker believes that a way for the school to do more to push the significance of voting is through more events than just the drive.
A suggestion for an event to help encourage students to vote would be a day dedicated to talking about voting.
Various FCC students feel similarly to Booker on how important voting is to college students.
Emilio Sanchez, a Mechanical Engineering major at FCC, believes that everyone should partake in voting despite his personal lack of interest in voting.
Sanchez feels that events on campus to encourage voting are helpful.
"I think everyone needs to vote even though I'm not one to vote, I still have to have an open mind of what the world is doing because you can't just be in a world where there's chaos and you're secluded to that. You have to have open eyes to everything, especially when things are beneficial," Sanchez said.
Misael Lopez, a Musical Education major at FCC, doesn't have an interest in voting.
Aside from voting on things that can impact family and friends and the occasional controversial topic, Lopez is not one to vote.
"It[voting] is important when there's a huge movement that's going to happen or something that's going to impact the communities in a small city to an entire state," Lopez said.
Although he isn't an avid voter himself, he knows how important it is to those who have interest.
"To me, as a person who doesn't want to try to vote as often, it's fine but for people who really want to vote I feel like this is not enough because sure we have stands and people asking them to sign… but [for] the person who supports or against that bill or law, they may feel it is inefficient," Lopez said.
One way in Misael's mind for voting to be encouraged is through sending out fliers to more people.
Evan Cortes, a mathematics major at FCC, is very interested in voting and feels that it is very important for college students.
"As college students, it's one of our responsibilities to vote because we matter and if we don't vote, the only people who are going to matter are the older people who screw us over," Cortes said.
Although Evan feels FCC doesn't do as much toward voting, he believes they don't need to because there are already a lot of students who are interested and engage with other students in talking about voting.
Despite this engagement, Cortes feels that voting will decrease in the foreseeable future.
"I noticed that a lot of [younger] people are getting more nihilistic and thinking 'my vote doesn't mean much so why should I vote?'… So I don't think it's going to go up, I actually think it's going to go down eventually and that's kind of a problem," Cortes said.
Evan believes that accessibility is a way to keep votes from decreasing any further in the future.