Counseling on the Green for Student Education Needs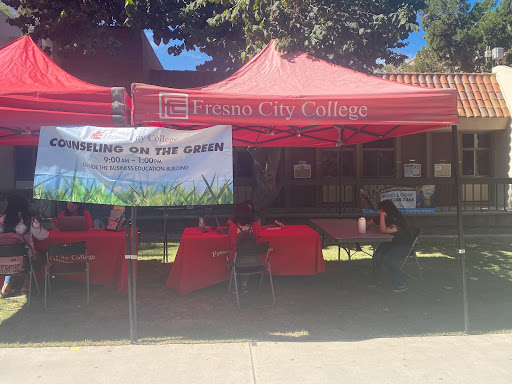 Counseling on the Green is a service provided by Fresno City College that allows students to speak with counselors on campus and ask general questions without having to make an appointment.
Counseling on the Green is like meeting with a counselor in Student Services. Students can receive information or ask questions about any major, student education plans, transferring, GE or CSU requirements and more.
The only difference is that counseling is more accessible since it's outside and is a quicker way to get information.
The table is set up outside of FCC's Business Education building every Wednesday from 9 a.m. to 1 p.m. until Nov. 16. 
Students don't have to go to the counseling department in the Student Services building to meet with a counselor. Students who have little time to meet with a counselor can benefit from Counseling on the Green by stopping by the table to ask quick questions, FCC counselor Lucely Rosas said.
"Sometimes I get students who will come out here and will ask just one simple question and then once they get comfortable they will come back for more counseling services," Rosas said.
Rosas added that being visible to students outside, especially shy students, helps them feel more comfortable because it lets them know that counselors are available to help. 
After students speak with counselors at the table, they are advised to follow up with their pathway counselors, who specialize in the student's major and will consistently follow up and help them with their educational goals. 
"It's like a first step to finding their career path," said FCC Counselor Leigha Moua.
Most students are not sure what classes they need to take to meet requirements for their major. Meeting with counselors will ensure that students are taking the right classes and finish in a timely manner, said Moua. 
Counselors understand that asking for help can be scary but students shouldn't be hesitant when it comes to their career goals. 
The counseling department plans on providing Counseling on the Green again during the spring semester, said Rosas