Students Gather for Fresno City College Transfer Day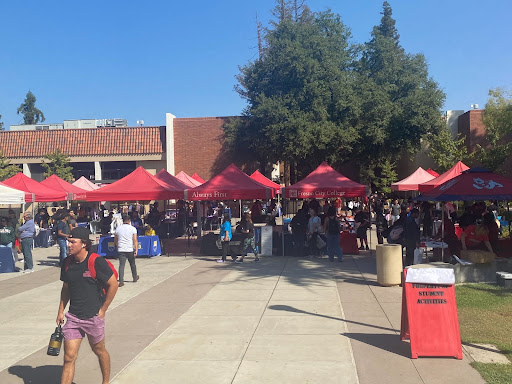 Nearly 60 California State Universities and independent colleges gathered at Fresno City College for transfer students on Sept. 14, bringing in a large crowd of students.
Transfer Day was dedicated to students that plan to transfer to a 4-year university.
The colleges hosted workshops where students could discuss scholarships, applications, and more with campus representatives at the University Mall located between the FCC Library and Student Services Building. 
Universities that participated in the event ranged from CSUs, UCs, and private schools. This college fair is the biggest that FCC has hosted so far, according to Lead Coordinating Counselor Ray Luna.
Workshops were set up to give students contact information and descriptions of the campuses and what separates the schools from one another. Specific workshops such as transfer scholarships, intro to transfer, and UC tap, tag and apply were also available, Luna said. 
The UC tap, tag and apply workshop gives information to UC transfer students. 
Tap is an account students make to list schools they are interested in and receive information from the school while Tag is guaranteed admission to a UC if requirements are met. Information is then pulled from the student's account so they could apply. 
"Talk to a transfer counselor as soon as possible, especially when you know your major and school," Luna said.
According to Luna, speaking with a transfer counselor is essential since there are requirements to be met before transferring. 
Recruitment Counselor for Fresno State, Jesse Farias said, to transfer to Fresno State, students need 60 or more transferable units, and the four foundation classes are completed.
Farias added that a student must meet the GPA requirement for their major, and the minimum of 30 semester units of CSU general education to be in good standing at the college a student is transferring from. 
While there are majors that require prerequisites and classes available during certain semesters, talking with a counselor helps students create a plan and line up classes so they are eligible to transfer.
Angelica Santiago, a biology major at FCC plans on transferring to a California University but is still undecided. 
"I feel like there's just so many choices and I haven't really visited the campuses because I do plan on moving there, so I'm really indecisive on where I want to go," Santiago said. 
Santiago, who attended the event, felt the workshops provided clarity in the transferring process and will help narrow her options. She is now interested in other campuses and plans on making a pros and cons list and attending workshops that the schools provide so she can choose the best future college.