Tower Districts and Downtown Fresno: Hot Spots for Students 21 and Up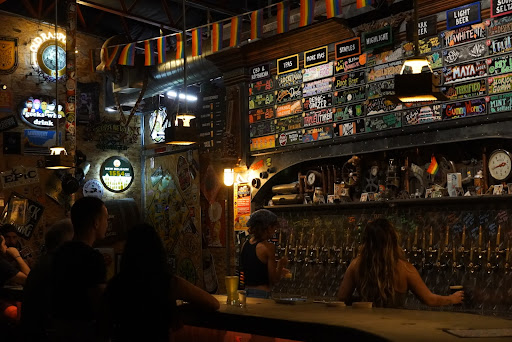 Tower District and Downtown Fresno are filled with bars and establishments where great people with all kinds of backgrounds go to hang out.
Goldsteins is a local bar in the Tower District that's been around for seven years. The popular opinion among management and employees is that the social aspect of Goldsteins is a big draw. 
FCC students Chynna Lee and Jonathan Perez both agree that Goldsteins is a good place to hang out and meet new people. 
Perez specifically enjoys Karaoke Sunday's, playing cornhole and trying new flights of beers. The biggest draw for Lee is the chill atmosphere and good music.
According to Lexie Fabbian, the assistant manager, beertender, social media manager and long time customer, "Goldsteins is all about nostalgia. If I think of the quintessential Goldsteins customer, it's a punk person who smokes weed, hangs out on the patio," she said. "They listen to Blink-182, Sum-41, Panic! At The Disco." 
Orion Fitzhenry, who works as Goldstein's security and is an English literature major at Fresno State, has been coming to Goldsteins long before he started working there. 
Fitzhenry enjoys the selection of beer and how relaxed it is. "I think it's reaching that last milestone of adulthood. You have to sometimes think 'what do I want my silly times to be, who am I, who are my friends gonna be, who are my acquaintances?" he said. "I think especially for a bar. It seems very simple, but it can really have a big impact on your life for better or worse."
Goldsteins has a wide variety of local beers and some rare finds; along with non-alcoholic drinks, CBD drinks, and Kombucha.
Spokeasy Public House is a local bar in the Tower District that has been open for 10 years. Owned by three friends who are also Tower District locals, Jacob Martinez, Mike Adame and Jared Long. 
Events are hosted every now and then, and they're typically music themed. They have a vinyl night the last Wednesday of every month that's sponsored by Ragin Records. "It's more interactive and people bring records that they listen to and want to share," said Adame.
Martinez and Adame both agree that Spokeasy is a chill and laid back type of bar, and that's the biggest draw to their customer base.  "We've had the punk kids come in, teachers and students from FCC, and a bunch of different musicians," said Adame
They get new beer every week and bring in anywhere from 15-30 new cans along with eight rotating taps. "You always have something new to pick from," Martinez said." If a beer is really popular, it'll last a day, but nothing lasts longer than a week."
They bring in beers from all over, including imports, so customers are able to try beers that they wouldn't typically see. "We can always recommend something, and if you don't know about beer, I love that, because we will find you something," says Martinez.
On Mondays, they have all day happy hour, food trucks Tuesday-Friday, and soon will have them on Saturdays as well; the food trucks rotate throughout the week. During beer related events, they bring in food trucks that'll complement the different beers. 
Modernist is a craft cocktail bar in the heart of the brewery district in Downtown Fresno. Jillian Crawford, a FCC Alumni and liberal studies major at Fresno State, has been bartending at the bar for about a year and a half. "What we're trying to achieve at the Modernist is bringing in world class hospitality. Guest experience is most important," Crawford says.
Jonah Ribera, a liberal studies major at FCC describes their cocktails as "top notch." 
"If you want an awesome crafted cocktail, that's the place," he said. Ribera enjoys the show they put on for you while crafting your cocktail.
As the name suggests, they've taken a 'big city' modern spin on the bar "It feels like you're in a cocktail bar that would be in New York or Los Angeles, but is only a 20 minute drive instead," Crawford said. 
Modernist just started hosting 'Margarita Wednesdays,' along with the margaritas is an all day happy hour. They are also a part of Fresyes fest and other events Tioga puts on, and they are always participating in the Art Hop.
They have a wide variety of cocktails on their menu; Crawford mentions that they will always have a recommendation and are happy to help guests find a new favorite cocktail.