2018 Gubernatorial Candidate Stops at FCC
The Health and Sciences Forum Hall was filled to the brim on April 25 with students waiting anxiously for gubernatorial candidate Antonio Villaraigosa to arrive.
Most students were ready with questions. Others were there simply because their political science class was awarding extra credit.
No matter the students' reason for being in the forum hall on that hot day, they all wanted to hear Villaraigosa.
When Villaraigosa finally arrives, he starts with a simple introduction on his life.
"I didn't grow up with a silver spoon," Villaraigosa said. "[I] grew up in a home with domestic violence and alcoholism, grew up in the Ellis Island of LA where all the immigrants went."
Villaraigosa said he is from a third generation immigrant family but was born poor and went through multiple schools because he was either kicked out or he dropped out.
"It was my mom and a high school teacher who gave me a second chance," Villaraigosa said.
"A community gave me a shot and made me realize, 'Hey I could do this.'"
Villaraigosa attended East Los Angeles Community College, and later law school at the University of California, Los Angeles.
"To whom much is given, much is expected, and I believe we need to take this dream by the horns and shine it up a bit," Villaraigosa said.
Villaraigosa explained he would focus on education, middle class jobs and investing in future generations.
Villaraigosa answered a number of students' questions, including how he would advise a person who wants to get into politics.
"Get involved in community," he advised. "And then, never, ever, forget where you came from."
Villaraigosa started out in the community, doing voter registration. He was a community organizer for 25 years and a labor leader for 15 years. "I didn't run for office till I was 39 years old," he said. He was also involved in the farm worker boycott and fighting for immigrants.
On dealing with youth in the streets who are struggling and are lost and need guidance, Villaraigosa said he believes in second chances.
"Somebody took a chance on me," he said. "I would say to them, you know, you can change your life around, and an education will open up doors for you."
On California's perennial water issue, Villaraigosa said, "I'm for the farmers because they put the food on our table."
He said he will focus on clean drinking water.
"I think we have to build Sites [reservoir] and Temperance [flat dam], two dams that we promised a long time ago here in the Central Valley," Villaraigosa said. "I think cities have to recycle [water] dramatically more. We have to have an all of the above strategy."
Villaraigosa said said he would actively try to dismantle the massive prison system in the state. "I took on Three Strikes You're Out. I took on the death penalty. I supported [Proposition] 47 and [Proposition] 57," Villaraigosa said.
He said that investing in education, workforce training, mental health and drug rehab and job re-entry training."
Villaraigosa said he wants to leverage the high speed rail for economic development in the Valley and for diversifying the economy.
"I recognize that it can't keep on going up like this," Villaraigosa said. "But the biggest reason why I am for it, is for the Valley."
He said he has stood up for immigrants because they are human beings.
"They come here to work," Villaraigosa said. "They're working hard. Let them work." People hire them for a reason; they work hard."
He said he believes in having immigration laws and that every country should have them.
"We have to fix our broken immigration system," Villaraigosa said. "Stop screaming at one another." He said Dreamers have a right to get an education.
On his standing in the polls and getting registered Latino voters to the polls, Villaraigosa said, he is not focused on the polls. "I'm focused on creating more middle class jobs and really convincing people that the challenge ahead of us is to grow together as a state, to restore that California dream," he said.
He is optimistic about his chances in the elections. "I'm focused on really doing what I can to convince people that we have to make this economy work for more people," Villaraigosa said. "We have to build more middle class jobs. That is the challenge."
Villaraigosa said civic engagement is really important in his campaign. "I want to engage people, that's why I'm coming to Fresno City College to inspire these young people," Villaraigosa said.
"Get involved, vote; that's a good thing," Villaraigosa said. "I've always been a big believer when more people vote, the better for all of us."
About the Contributor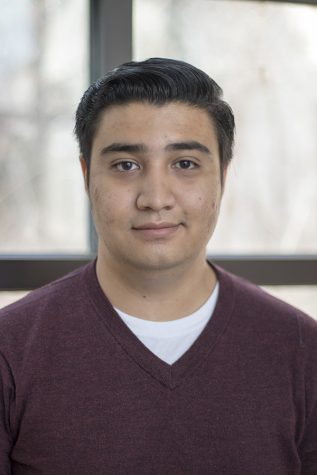 Andrew R. Leal, Reporter