'Excellence Is in Our DNA' Provides Empowering Message
For the 11th year, African-American students from around the Central Valley gathered at the Convention Center in Fresno for the African-American Student Leadership Conference.
In honor of Black History Month, Fresno, Clovis, Central, Sanger, Washington and Madera Unified school districts participated in the conference with the theme: "Excellence is in Our DNA," alongside Fresno City College, agencies and academies on Feb. 8
Like in previous years, the event focused on the concepts of communication, respect, responsibility, ethics, leadership and comportment.
The general session featured a singing of "Lift Every Voice and Sing" — a song about freedom after which keynote speaker, Ramsey Jay, Jr. delivered an empowering speech, directed at every young and seasoned person in the room.
Following the keynote speech, participants participated in three breakout sessions that included honoring of ancestral obligations, a college and career fair, and one for young Kings and Queens called Destiny. In each, individuals were encouraged to love themselves and not give up on their dreams when tough times come.
Each breakout session focused on breaking self-deprecating behaviors and replacing them with healthy attitudinal shifts.
Cedric Pulliam, head counselor for the SYMBAA (Strengthening Young Black Men By Academic Achievement) and the IDILE program — named after an African term — "the root of the family," was a keynote speaker in the session for young kings. Alongside Pulliam were many of his Alpha Phi Alpha fraternity brothers, who came to make an impact.
"Our goal is to get students to understand what failure is and that it does not mean the end," Pulliam said. "It's a learning experience that is going to help them succeed."
In their presentation, Pulliam and his fraternity brothers discussed the contributions of failure with a room full of young men. They highlighted graduation rates for males, nationally,  by state and by ethnicity. Graphs of statistics were shown, focusing on the percentage of graduation rates of young black women and men compared to other groups.
According to the U.S. Department of Education, only 33.1 percent of African-American men and 44.8 percent of African-American American women graduate from high school, compared to 57.3 percent of other students.
"If you're not willing to make a change, you're not ready to succeed," Pulliam said.
The speaker used the great basketball player, Michael Jordan, as an example of intrinsic motivation and failing forward, explaining that if one doesn't allow failure to become a habit and refuses use it as an excuse, the impossible is possible.
FCC representatives passed out fliers from their booth where students signed up to receive information about the majors FCC offered. Students could speak to a counselor about the SYMBAA and IDILE programs and FCCs learning environment as a whole.
"We are here to provide students with the opportunity to further their education," FCC  counselor, Angie Keys, said. "We want to make sure we are improving the outcome for Fresno City College, and getting the word out about what Fresno City has to offer for our students."
About the Contributor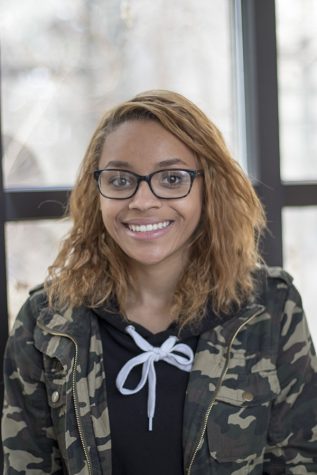 Jamila McCarty, Reporter